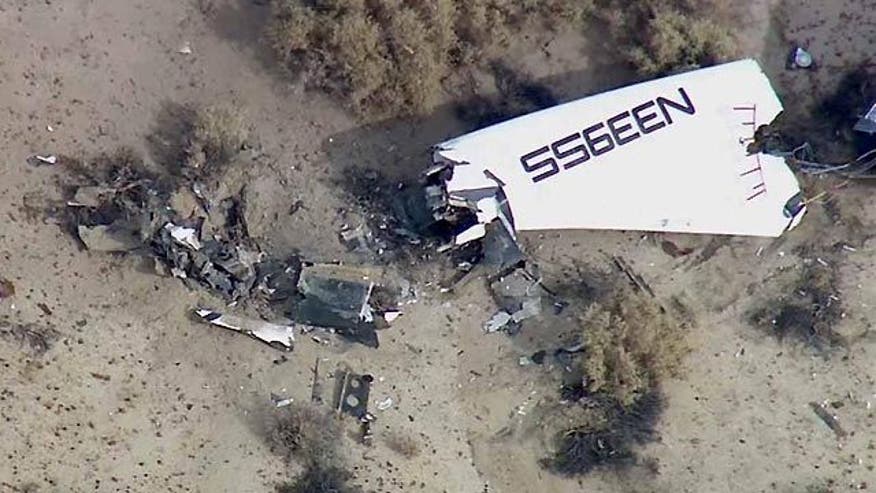 Virgin Galactic's SpaceShipTwo space tourism rocket crashed during a test flight over the Mojave Desert Friday, killing one of the two pilots aboard and seriously injuring the other.
No cause of the crash has yet been determined.
Speaking at a press conference, Stuart Witt, CEO of the Mojave Air and Space Port, where the test took place, confirmed that an "inflight anomaly" occurred about two minutes after SpaceShipTwo was released from WhiteKnightTwo, the 'mothership' plane that carries it to a high altitude. 
"I had confirmation of a mishap a few moments later, about 25 miles north of the airport," he said.
Witt also confirmed one fatality in the crash, adding that the surviving pilot was treated at the scene and taken to a local hospital.
Kern County Sheriff Donny Youngblood said that the survivor had suffered major injuries.
"Our primary thoughts at this time are with the crew and families," added George Whitesides, CEO of Virgin Galactic. "We're doing everything that we can for them now."
Kevin Mickey, president of Virgin Galactic's partner Scaled Composites, which was conducting the powered test flight, said that investigators from the National Transportation Safety Board are expected to arrive on the scene Saturday morning. "We expect that the investigation will take several days," he said.
Virgin Galactic founder Richard Branson is also on his way to the test site, and is expected to arrive Saturday morning. It was not immediately clear what effect the crash would have on the future of Virgin's ambitious space tourism project.
Mickey confirmed that the two crash victims were Scaled Composites test pilots, but did not reveal their names.
Earlier on Friday, Virgin Galactic tweeted that SpaceShipTwo was flying under rocket power and then tweeted that it had "experienced an in-flight anomaly."
Mickey was asked about SpaceShipTwo's rocket motor during the press conference.
"We were flying a rocket motor today that had been thoroughly tested on the ground – we expected no anomalies with this motor today," he said. "This motor configuration had flown a few times in the past."
The Scaled Composites president added that a "new fuel formulation" was used during Friday's test flight, but said that it had "been tested on the ground, many times."
Friday's flight marked the 55th for the spaceship, which was intended to be the first of a line of craft that would open space to paying civilians. At 60 feet long, SpaceShipTwo features two large windows for each of up to six passengers, one on the side and one overhead.
Virgin Galactic – owned by Branson's Virgin Group and Aabar Investments PJS of Abu Dhabi – sells seats on each prospective journey for $250,000, with full payment due at the time of booking. The company says that "future astronauts," as it calls customers, have visited Branson's Caribbean home, Necker Island, and gone through G-force training.
Stephen Hawking, Justin Bieber, Ashton Kutcher and Russell Brand are among the celebrities to sign up for flights. Virgin Galactic reports taking deposits totaling more than $80 million from about 700 people.
A related venture, The Spaceship Co., is responsible for building Virgin Galactic's space vehicles.
During testing for the development of a rocket motor for SpaceShipTwo in July 2007, an explosion at the Mojave spaceport killed three workers and critically injured three others. A California Division of Occupational Safety and Health report said the blast occurred three seconds after the start of a cold-flow test of nitrous oxide – commonly known as laughing gas – which is used in the propulsion system of SpaceShipTwo. The engine was not firing during that test.
Ken Brown, a photographer who witnessed Friday's crash, saw the space tourism craft explode after it was released from WhiteKnightTwo. 
"I could see that it was tumbling, and it wasn't one piece," Brown told Fox News's Shepard Smith.
The Associated Press contributed to this report.