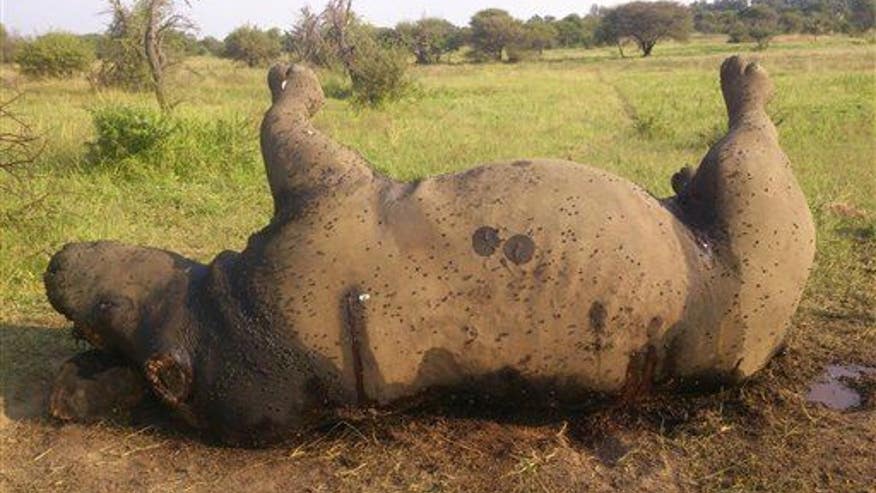 You know what they say about drastic times. Rhino poaching has gotten so much worse in Namibia in the past year that the government is moving forward with a drastic measure—cutting off the coveted horns before poachers can get to them.
Unfortunately, even this may not fully deter poachers, who at least in Zimbabwe have still killed dehorned rhinos to get what they could for the stubs that remained, reports the Smithsonian.
Trading rhino horns is banned by the UN, but they're used in Chinese medicine as a treatment for fevers and gout and in Vietnam as a hangover remedy; their consumption is even becoming a status symbol among wealthy men in Vietnam.
Roughly a third of the planet's 4,800 black rhinos live in Namibia, and on the surface, the fact that 14 rhinos were killed there this year may not sound alarming, especially when compared to what neighboring South Africa has seen: 769 white rhinos poached this year, per Bloomberg.
"It is minor in terms of the total population, but disturbing that more rhinos have been poached in the past year than the past 10 years combined," the managing director of the World Wildlife Fund tells Vice News.
The plan is to first anesthetize the rhinos, in some cases from helicopters, and use chainsaws or hacksaws to remove the horns. A new anti-poaching agency of 300 law enforcement officers and surveillance drones will also patrol the national parks.
(Last year, poachers killed what may have been the last standing rhino in Mozambique.)
This article originally appeared on Newser: Why Namibia Is Chainsawing Off Its Rhinos' Horns
More From Newser