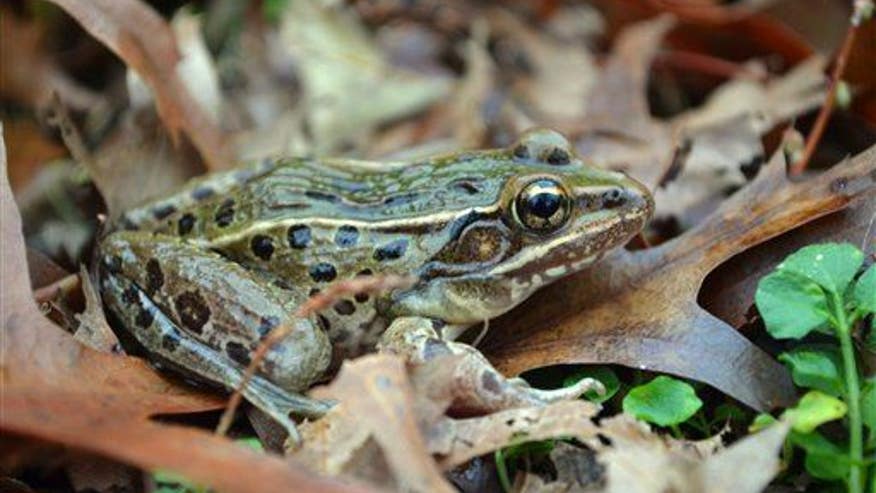 A few years ago, researcher Jeremy Feinberg was looking into why the New York City area's southern leopard frog had disappeared when he stumbled onto a strange call between a bunch of frogs on Staten Island.
The chuck, chuck, chuck sound his team heard was definitely different from the sounds of known frogs in the area, and when Feinberg found a video online from another team that had wondered the same thing, the hunt for a new species officially commenced, the Star-Ledger reports.
"Pretty much within 10 seconds of hearing the calling, we said, 'Something is really weird here,'" Feinberg says. According to a paper published in PLoS One, DNA evidence has verified it is indeed a new species: the Atlantic Coast leopard frog.
The "cryptic species" differs from other leopard frogs in two ways: in its croak and in the spots that run down the backs of its legs.
As Feinberg explains to National Geographic, it's pretty remarkable the mating calls were heard at all, as the frog's breeding period is only a few weeks long and coincides with a time when spring peepers are noisy: "You have to win the jackpot to hear them." It's only the second new frog species found in the US in three decades and the first amphibian found in New York since 1854.
Scientists decided to make the frog's official name Rana kauffeldi after herpetologist Carl Kauffeld, who had his own suspicions in 1936 that the area was home to not two but three species of leopard frogs, Smithsonian reports.
The number of leopard frog species worldwide now stands at 19, notes a press release. (A tree-thinning project was tabled because of a rare frog.)
This article originally appeared on Newser: New Frog Species Has Croak Unlike Any Other
More From Newser