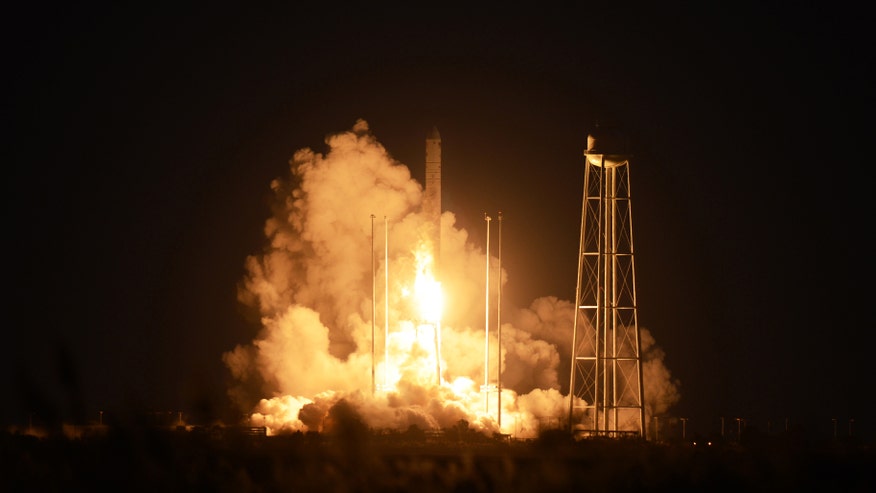 Orbital Sciences announced plans Wednesday to ditch its refurbished Soviet era-rocket technology following the explosion of the company's Antares craft on a NASA launch pad last week.
Following the botched launch on Oct. 28, in which the Antares rocket exploded in a fireball shortly after liftoff from Wallops Island in Virginia, Orbital's use of AJ26 rocket engines from U.S. firm Aerojet Rocketdyne was closely scrutinized. The AJ26 is based on the NK-33 engine that was initially developed to power the Russian N-1 rocket on a lunar mission in the early 1970s.
An investigation had identified a problem in one of Antares' AJ26 engines, Orbital confirmed on Wednesday.
"Preliminary evidence and analysis conducted to date points to a probable turbopump-related failure in one of the two Aerojet Rocketdyne AJ26 stage one main engines," the company said in a statement. "As a result, the use of these engines for the Antares vehicle likely will be discontinued."
Orbital has a $1.9 billion contract with NASA to supply the International Space Station as part of the space agency's Commercial Resupply Services (CRS) program. Last week's Wallops Island launch was the third of an eight-launch deal.
Despite last week's setback, however, the Dulles, Va.-based company has vowed to meet its obligations to NASA.
"Orbital is taking decisive action to fulfill our commitments to NASA in support of safe and productive operations of the Space Station," Orbital CEO David W. Thompson said in the statement. "While last week's Antares failure was very disappointing to all of us, the company is already implementing a contingency plan to overcome this setback. We intend to move forward safely but also expeditiously to put our CRS cargo program back on track and to accelerate the introduction of our upgraded Antares rocket."
Speaking on a conference call with investors Wednesday, Thompson said that Orbital Sciences will buy rockets from an unnamed outside source to launch its Cygnus cargo ships into space, Reuters reports. Thompson did not reveal specific details of the rocket technology, but said that the options include two U.S. launch providers and one in Europe.
In its statement, Orbital said it plans to introduce a "previously selected Antares propulsion system upgrade" in 2016. Prior to the upgrade, the company will employ "various launch vehicles," but not its Antares rocket, to send one or two Cygnus cargo ships to the International Space Station in 2015 to 2016.
"The company expects repairs to the Mid-Atlantic Regional Spaceport launch complex at NASA's Wallops Flight Facility to be undertaken quickly, allowing launch operations to continue at Wallops Island with the upgraded Antares beginning in 2016," Orbital said.
Orbital's rival SpaceX has been vocal about the fact that it builds its own rocket engines. SpaceX CEO Elon Musk even poked fun at Orbital Sciences' engine technology during a 2012 interview.
In September, SpaceX and Boeing won the coveted NASA space taxi contract, which aims to restore an American capability to launch astronauts from U.S. soil to the International Space Station by the end of 2017. Since the end of the Space Shuttle program in 2011, American astronauts have been transported to space on Russian-built Soyuz vessels.
Follow James Rogers on Twitter @jamesjrogers