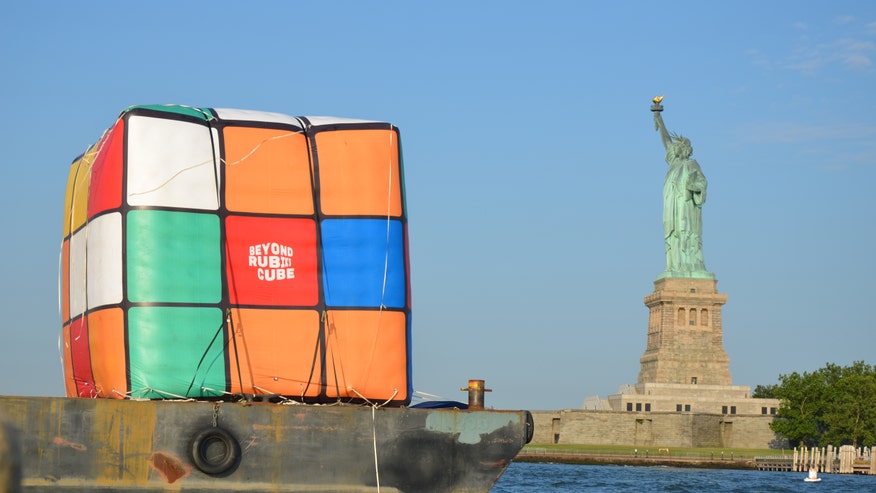 New Yorkers were treated to the surreal sight of a giant Rubik's cube floating on the Hudson river today.
Towed on a barge, the colorful inflatable cube made its way from Staten Island to Manhattan's west side and back again, commemorating the fortieth anniversary of the iconic toy and the seventieth birthday of its creator, Ernő Rubik.
The cube's river journey was part of 'Beyond Rubik's Cube,' an exhibition running at Liberty Science Center in Jersey City, N.J, in partnership with Google and Ernő Rubik. The $5 million exhibition offers 7,000 sq ft of puzzles, history, art and engineering inspired by the famous cube.
"The goal of the exhibition is that it's interactive and designed to inspire peoples' creativity – we're doing things like this (floating cube) to get people thinking," Liberty Science Center spokeswoman Mary Meluso told FoxNews.com.
The exhibition, which runs at Liberty Science Center until November, will go on an international tour (accompanied by the inflatable cube), for seven years, Meluso told FoxNews.com. "We want this to go out into the world and get peoples' creative juices flowing," she added.
Hungarian inventor and architect Rubik, who turns 70 on Sunday, was looking for a model to explain three-dimensional geometry when he created his famous cube in 1974.  Since then, more than 350 million of the cubes have been sold, making it the bestselling toy of all time.
Liberty Science Center is inviting people to celebrate Rubik's birthday via social media using #RubiksParty.
Follow James Rogers on Twitter @jamesjrogers