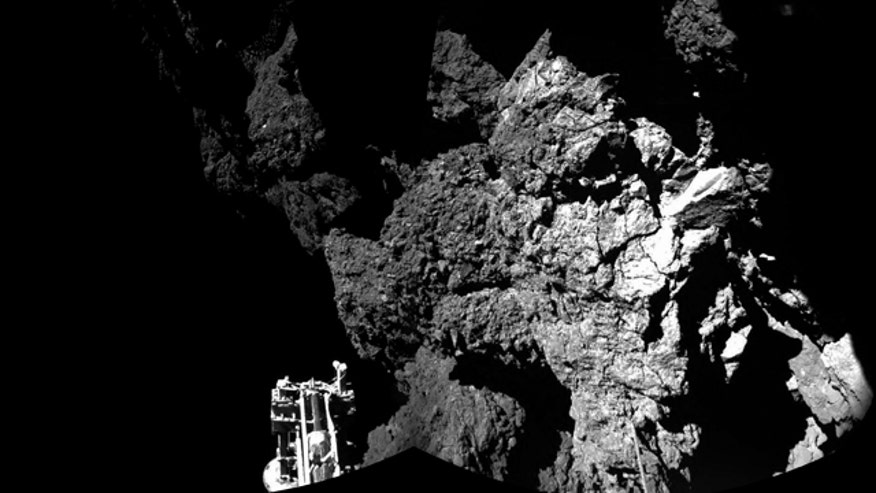 The European Space Agency has released the first picture taken by the Philae landing probe from the surface of a comet after determining that the craft had stabilized following a tension-filled landing. 
The photo released Thursday shows a rocky surface with one of the lander's three feet. Philae became the first spacecraft to land on a comet when it touched down Wednesday on the comet, 67P/Churyumov-Gerasimenko.  Harpoons meant to anchor the lander to the surface failed to work properly, causing Philae to bounce twice.
Gerhard Schwehm, a scientist on the Rosetta mission, told The Associated Press on Thursday that it may still be possible to fire the harpoons but in any case the lander is "very healthy." However, Lander project manager Stephan Ulamec told the BBC that he was wary of making another attempt to fire the harpoons on the grounds that Philae could be thrown back into space. 
The BBC reported that ESA scientists are still trying to determine the craft's precise location on the comet, while engineers say it may have bounced hundreds of feet off the surface on its first landing attempt. 
Scientists hope that analysis of the comet's surface will provide vital clues to the origin of the Solar System. However, Ulamec also said he was worried about drilling into the comet's surface due to stability concerns. 
The Associated Press contributed to this report.