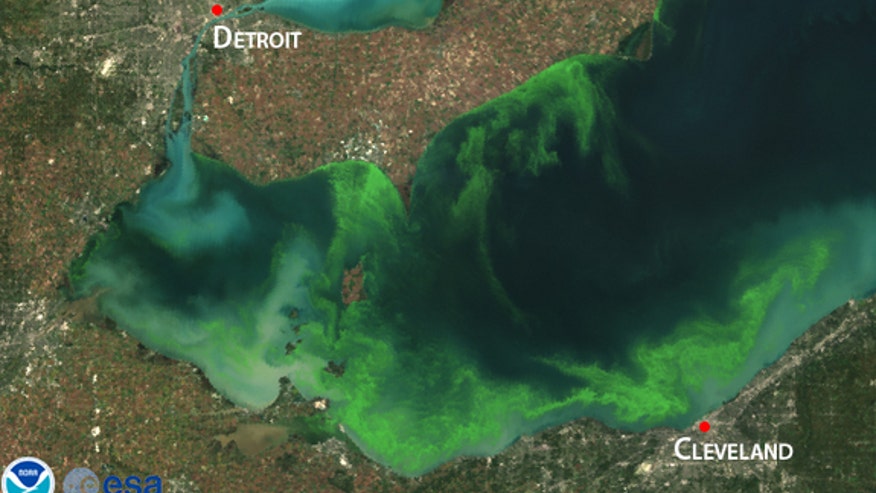 Slimy green mats of toxic algae will again threaten the western shores of Lake Erie later this summer, according to an algae forecast released today July 10.
The predicted Lake Erie algal bloom will be smaller than in the past three years, but still above the average for the past 12 years, according to the National Atmospheric and Oceanic Administration (NOAA) forecast. The algae are also expected to collect on certain shorelines instead of spreading out evenly across the lake, NOAA said in a statement. In previous years, the toxic algae have clung to the western third of the lake, in Ohio and southern Ontario.
This year's forecast calls for some 24,250 tons (22,000 metric tons) of blue-green algae to overtake Lake Erie's waters, while the average since 2004 is 15,430 tons (14,000 metric tons). [Photos of the Great Lakes: North America's 'Third Coast']
This is the third year the agency has forecast the amount of toxic slime that would choke Lake Erie during the late summer. The forecast is based on models of fertilizer runoff and satellite tracking of precipitation and snowmelt.
The noxious blooms occur when fertilizer runoff feeds the runaway growth of cyanobacteria, or blue-green algae. The algae are harmful to marine life and to humans. Decaying cyanobacteria suck up oxygen, creating dead zones. Some kinds of algae also emit toxins that damage or irritate the nerves, skin, liver and kidneys of humans and other animals. Lake Erie is the drinking water source for millions of people in the United States and Canada.
The lake suffered from severe algal blooms in the 1960s, but the thick mats disappeared after a water quality agreement was signed in 1972. The toxic algal blooms returned with a vengeance in 2000, due to changes in when and how farmers apply agricultural fertilizer, according to studies by researchers at the University of Michigan and other institutions. Scientists also think climate change is a factor, with Lake Erie's waters becoming warmer and more hospitable to algae.
"The reemergence of harmful algal blooms in Lake Erie is an ecological and economic setback for communities along the coast," U.S. Rep. Marcy Kaptur (D-Ohio) said in the statement.