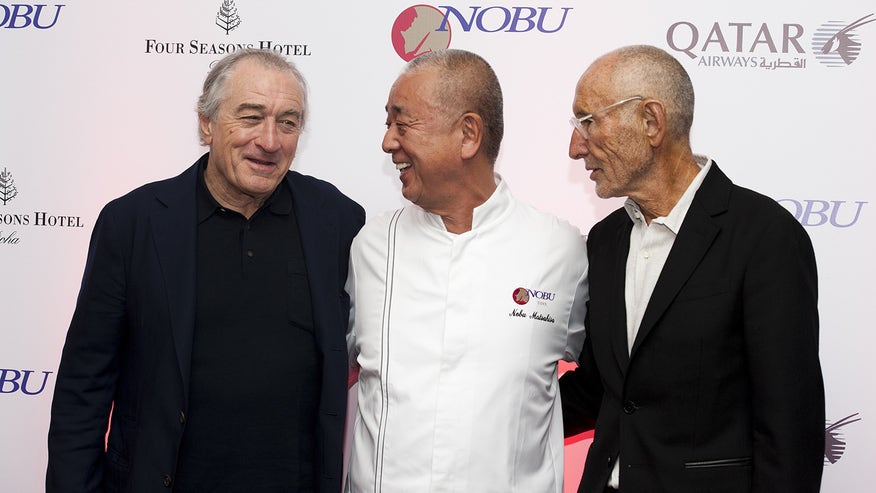 It's been a very busy year for Robert De Niro, who at 72 shows no signs of slowing down. The two-time Oscar winner logged 165,000 miles of air travel in 2015. Maybe he, and not George Clooney, should have starred in "Up in the Air."
But De Niro's miles weren't all acting-related.
In addition to appearing in four movies – including "Joy," which hits theaters on Christmas Day – he continued to be a player in the hospitality business. When the makeup comes off, the real-life De Niro is a partner with chef Nobu Matsuhisa and former film producer Meir Teper in the luxurious Nobu restaurant and hotel chain.
Nobu opened a hotel in Manila and two restaurants – in the Moscow area and in Doha, Qatar – this year, and De Niro found time to attend all the openings.
Nobu Doha, on the shore of the Arabian Gulf at the Four Seasons, celebrated its grand opening last month, five years later than planned. "Its construction process was very long, because it was very unique to design: on the water, inside/outside, two bars, smoking/no-smoking and rooftop," Matsuhisa said of the eight-year undertaking.
While Nobu Doha, with 284 seats, is the brand's largest restaurant, its shell-like design provides intimate spaces as well as sweeping views of the gulf and Doha's chic cityscape. At the restaurant's grand-opening celebration, where 400 guests seemingly all wanted — and got — selfies with him, De Niro and Matsuhisa found some refuge in those nooks to sample the sushi and champagne.
But De Niro wasn't in Doha for long. Two days after the restaurant's formal launch he was outside Moscow for the opening of the second Nobu in the area – Nobu Crocus City, which imported a wood oven from Australia to craft Crocus City-specific plates like sea bass with mint salsa in addition to the usual Nobu staples.
On his first visit to Moscow since 2009, De Niro got some local media attention when he was asked at the inaugural gala if he – like boxer Roy Jones Jr. and actor Gerard Depardieu – would like to request Russian citizenship. "Maybe," he replied, which suggests that he may want to add "diplomat" to his resume someday.
Nobu now has 32 restaurants and two hotels, with further expansion slated for 2016. It recently announced plans to open a restaurant in the West End section of Washington, D.C., late next year. "They have the president of the United States. I'd like to feed him," Matsuhisa said.
While the new restaurants received positive reviews, Nobu Hotel Manila was named the worst new luxury hotel of 2015 by Luxury Travel Intelligence. The members-only travel-advisory's co-founder told Fortune that the first Nobu hotel in Asia "seems to be suffering from poor management." Back in May, when the 321-room hotel opened, De Niro told reporters, "To me, you have to do more than lend your name, you gotta be there in order to just be more a part of it and really believe in it." So there may be more trips to Manila in De Niro's future.
If there are, it will just mean more time in the air. While in Doha – in the midst of a 14-day stretch that included stops in Macau, New York, London, and Moscow – De Niro talked with us about his travel preferences.
Related Image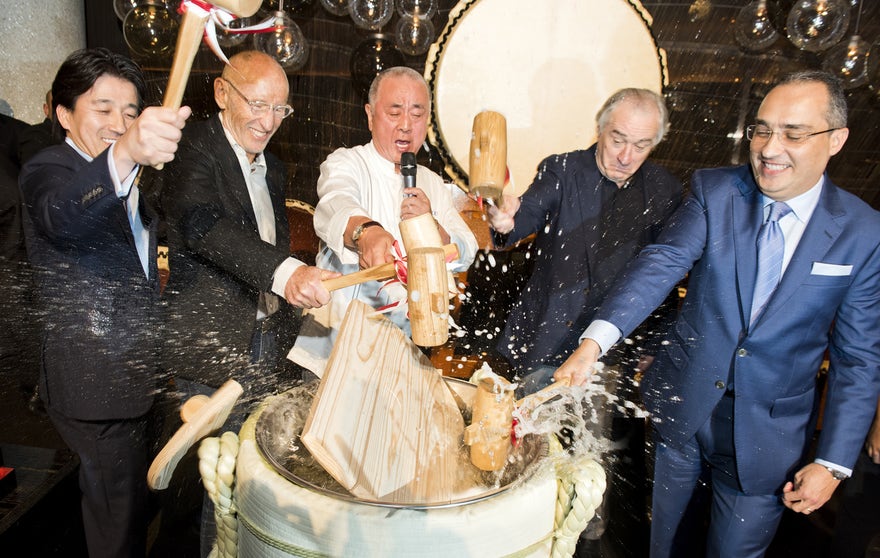 Expand / Contract
A traditional sake ceremony at the opening of De Niro's new Nobu restaurant. (Nobu Doha, Four Seasons)
FoxNews.com: What's your routine the night before a trip?
Robert De Niro: The toughest thing is just packing what you think you're going to need.
FoxNews.com: What is it that you think you need usually then? What are the essentials?
Robert De Niro: I sometimes think that if I'm stuck in a place longer for whatever reason, then I might need more of this, more of that, reading material, clothes. Taking more of everything just to make sure I'm not in that situation.
FoxNews.com: What do you wear on a flight?
Robert De Niro: Comfortable clothes.
FoxNews.com: Jeans, t-shirts, that sort of stuff?
Robert De Niro: Exactly.
FoxNews.com: What do you prefer: window, aisle?
Robert De Niro: Window.
Matsuhisa: Private.
De Niro: [Laughing] That's best, of course.
FoxNews.com: What's your favorite way to pass the time in an airport or waiting for a connection?
Robert De Niro: Just to get through everything as quickly as possible so I don't have idle time.
FoxNews.com: What's the worst thing you've ever had on an airplane?
Robert De Niro: Stale nuts.
FoxNews.com:  How about the best?
Robert De Niro: Fresh nuts.
FoxNews.com:  What cities do you visit the most?
Robert De Niro: I've been to Doha at least five or six times. LA, Paris, London.
FoxNews.com:  What's the first thing you do when you enter a hotel room?
Robert De Niro: Well it's hard when you enter a hotel room when your whole time thing is turned around. Say you're arriving in the Far East and there's a 12-hour turnaround. You're arriving in their morning but it's your middle of the night. Or the middle of their day, but the middle of your night. Or vice versa.
And in my case, it's just people wanting to help you get settled and this and that. But you just want to go to sleep, but you might not be able to because you've got to get settled, get certain things done, and then you got to start the day.