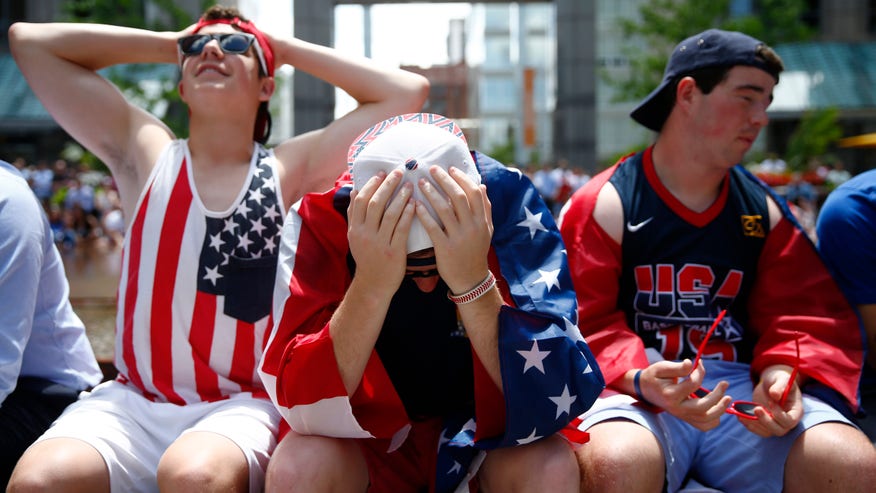 RIO DE JANEIRO –  Distracted by the World Cup atmosphere, American fan Jack Smith slipped his card into an ATM in a Rio airport.
He believes the card was cloned in an instant and, over several days before he discovered it, his account was debited for $12,000, a loss he said his bank would cover.
"I've probably met 60 people here, and 20 have been hit," said Smith, of Knoxville, Tennessee. "Of course these were for smaller amounts, although somebody told me they were out $6,000. But I'm scared. I won't ever use an ATM machine here."
It happened a few days ago, so Smith now laughs about it.
"Maybe this is a Brazilian tax of some kind I have to pay."
Crime in Rio de Janeiro was on the rise in the months leading up to the World Cup with muggings in the famous Copacabana area rising 60 percent. Official statistics won't be out for months, but the United States embassy, among others, warned its citizens before the World Cup about robberies on city buses, in banks and at cash machines.
Brazil has 15 of the world's most dangerous 50 cities on a list compiled by the Mexico-based Citizen Council for Public Safety and Criminal Justice. Rio state governor Luiz Fernando Pezao has characterized Rio's crime fight as "a war."
"At these big events, everyone comes prepared — the criminals too," said Jennifer McGowan, a spokeswoman for credit card company, Visa, in Sao Paulo.
The World Cup has been breathtaking on the field, but taxing off it with exhausted fans traveling across a country larger than the continental United States. Stories are easy to come by of people losing things, being robbed, and getting blinded by their exuberance.
Of course, there are many more football tourists for thieves to prey on.
Chile's consulate in Rio says it issued 81 emergency travel documents in the first week of the World Cup, almost 10 times more than it issued in the same period a year ago.
Chilean Christian Alvarez said he was robbed of $1,700 at gunpoint by a gang outside his hotel that apparently followed him after he withdrew cash from ATM machine. He was hoping to buy tickets on the street, which is illegal in Brazil.
"It was a shock," Alvarez said at the Chilean consulate. "The consulate couldn't give me money back, but I was able to contact my family."
Another Chilean, Fabian Morales, lost his passport as he celebrated Chile's 2-0 victory over defendingWorld Cup champion Spain at Rio's Maracana stadium.
"Between the euphoria and the lack of sleep, I'm not very clear what happened," Morales said.
The problems have kept consulates busy, scrambling to replace lost passports and control the damage.
Yolanda Parra, who is coordinating World Cup activities for the United States embassy's consular service in the capital Brasilia, said officials could replace a passport in 24 hours in an emergency. Then she backed off.
"To set that level of expectation for someone who lost their passport in the Amazon River. Well, it's not fair to us," she said.
The U.S. embassy estimates 80,000-90,000 Americans have come to Brazil for the World Cup. Embassy figures suggest that may be 10 times more than usual for this time of the year.
"We've seen an uptick in lost passports, but given the number of visitors we have it's a really small percentage," said Parra, who explained that consular crews had been working at all 12 World Cup venues.
"But there's still a couple more weeks to go," she added.
Carlos Eduardo Lopez of the United States-Mexico border city of Mexicali arrived at the local Mexican consulate, fearing his credit card had been cloned.
"I hope it's nothing," he said. "People are losing passports, visas. There are lots of robberies."
Mexico and Argentina have dispatched mobile consular units to cities where their teams play.
About 80,000 Argentines attended the country's last group match in the southern city of Porto Alegre, and as many are expected Tuesday in Sao Paulo for a second round match against Switzerland.
Gabriel Herrera, who heads the embassy's legal and consular section, said one request trumped the rest as fans passed Argentina's parked blue and white van.
"People have been walking by asking for tickets, which we don't have," he said.
German Tobias Mueller was warned before arriving in Rio to be wary of cash machines and to watch his credit card.
"I was told to be as careful as I would be in Germany," he said. "Actually, I was told be at least twice as careful."