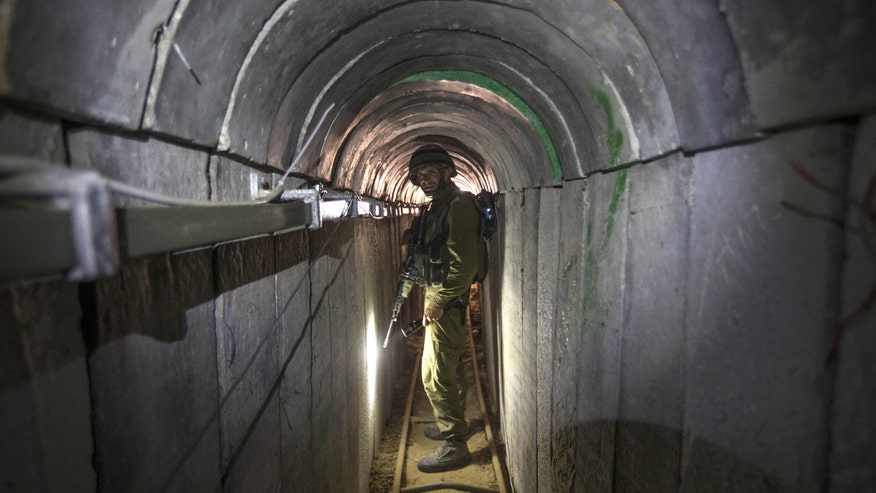 An emotional letter purportedly smuggled out of Gaza details one man's harrowing participation in digging the tunnels that Israel blames for triggering the latest round of fighting and paints a bleak picture of life under Hamas control.
The 30-year-old Palestinian to whom the letter is attributed describes accepting a cryptic job offer, then being taken in a windowless truck with five others to a building where they were forced to dig tunnels for long, gruelling shifts in stretches that lasted 10 days.
"We drove for an hour and finally they stopped and took us into a closed building. We didn't know where we were," reads the letter, the text of which has been released on the Internet. "They showed us a hole in the ground and told us to go down.
"We didn't know where we'd been, or what tunnel we dug."

– Purported letter smuggled out of Gaza City
"We walked for a few hundred meters, and when we got to the end, two Hamas members were waiting for us," the letter continues. "They gave us working tools and explained to us what to do in order to make the tunnel longer."
It goes on to describe back-breaking labor performed in unventilated shafts, with Hamas overseers screaming and even assaulting workers not deemed to be working hard enough. In the end, after the workers were taken back home and paid meager wages for their work, "We didn't know where we'd been, or what tunnel we dug," the letter said.
Earlier this week, The Times of Israel reported that Hamas killed dozens of tunnel diggers after their work was done to prevent leaks to Israel about the locations of the underground shafts. In addition to tunnelers purposely killed, The Journal of Palestine Studies in 2012 reported that Hamas leaders had admitted that, "at least 160 children have been killed in the tunnels," reflecting the fact that many children are also used as forced labor to dig the terror tunnels.
The writer, who sources told FoxNews.com lives in Gaza City, had the handwritten, Arabic letter smuggled out by courier to Itzik Azar, a resident of central Israel and friend of the writer's late father.
In the letter, the writer also claims his father's metalwork shop was commandeered by the U.S.-designated terrorist group soon after it came to power in Gaza in 2006, and used from that point on to turn out rockets.
"They [Hamas] set the prices and [placed the orders] from the workshop," he wrote. "From that day, every morning an armed Hamas member used to come to the shop and give us orders to make winged metal pipes. Straight away I understood that they were used to launch rockets. One day a pickup truck came and the Hamas members took my father from the shop. We never saw him again. Later I learned they killed him and threw his body into a pit."
The death of his father and the seizure of the family shop drove the man to jump at the chance to earn money, he said. When the latest hostilities between Israel Defense Forces and Hamas broke out more than two months ago, he realized his own work had played a role.
"We heard about the tunnels that Hamas dug and I understood that I helped them," read the letter. "We pray that the world will help to free us from the fearful and cruel Hamas rule in the Gaza Strip. I pray for death to all Hamas members and that we will get freedom and a chance to live a normal life for our children in Gaza. Inshalla."
Paul Alster is an Israel-based journalist. Follow him on Twitter @paul_alster and visit his website: www.paulalster.com