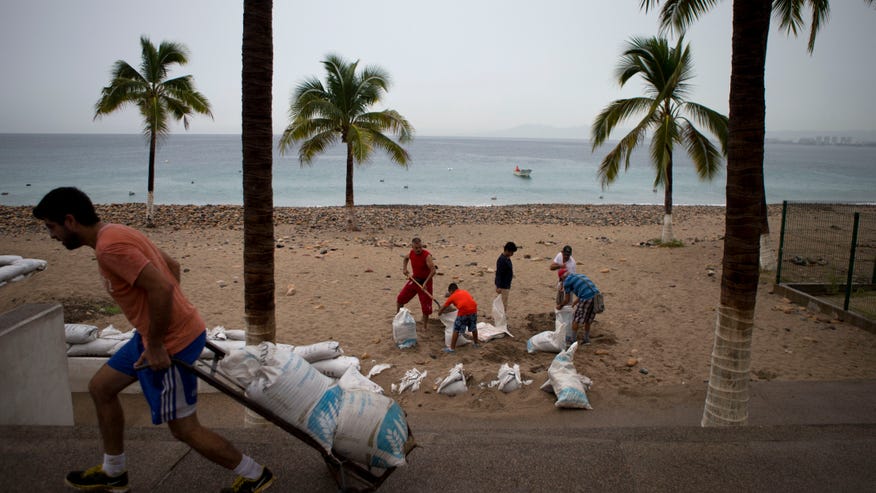 Patricia– packing 200 mile per hour winds and the strongest hurricane ever recorded in the Western hemisphere– is bearing down on Mexico's Pacific coast causing some residents and tourists to flee and U.S. forecasters to issue major storm warnings for West Texas.  
The U.S. National Hurricane Center in Miami reported that the Category 5 storm's maximum sustained winds had grown to 200 miles per hour (mph), making it the strongest storm on record in the eastern Pacific and Atlantic. Patricia is expected to remain a Category 5 through landfall Friday afternoon into evening. Afterward, Patricia is expected to rapidly weaken over the mountains of Mexico.
"This is an extremely dangerous, potentially catastrophic hurricane," center meteorologist Dennis Feltgen said.
Underscoring the severity of the storm, President Obama tweeted a message of support Friday. "Our thoughts are with the Mexican people as they brace for Hurricane Patricia. USAID disaster experts are on the ground and ready to help," Obama said via Twitter. 
Feltgen said Patricia also poses problems for Texas, which is bracing for a rare "back door storm" hitting the western part of the state first, unlike most Gulf hurricanes striking Texas from the southeast. Forecast models indicate that after the storm breaks up over land, remnants of its tropical moisture will likely combine with and contribute to heavy rainfall that is already soaking Texas independently of the hurricane, he said.
"It's only going to make a bad situation worse," he said.
Many parts of Texas, including Dallas and Houston, could see upward of 12 inches of rain by early Saturday. The U.S. National Weather Service said a flash flood watch would be in effect through Sunday morning for Dallas Fort-Worth, Austin and San Antonio, Texas. A coastal food warning was in effect through Friday night in Corpus Christi. Galveston was under a coastal flood advisory until Saturday night. 
Director of Mexico's National Water Commission Roberto Ramirez says that Hurricane Patricia is powerful enough to lift up automobiles, destroy homes that are not sturdily built with cement and steel and will be able to drag along people caught outside when the storm strikes.
Patricia's power was comparable to that of Typhoon Haiyan, which left more than 7,300 dead or missing in the Philippines two years ago, according to the U.N.'s World Meteorological Organization.
The storm is now located about 85 miles southwest of Manzanillo, Mexico, and about 155 miles south of Cabo Corrientes.The storm is moving north at 12 mph and continues to have maximum sustained wind near 200 mph with higher gusts, the National Hurricane Center said Friday afternoon.
Patricia is relatively small with hurricane-force winds only extending 30 miles from the eye, but catastrophic damage is expected to occur near the landfall point. Hurricane Warnings are posted from San Blas to Punta San Telmo. 
Rainfall near the coast and inland could reach 8 to 12 inches, with isolated amounts topping 20 inches, likely causing destructive waves, flash flooding and mudslides. Forecasters warned that preparations should be rushed to completion.
The storm now holds the record for lowest pressure in any hurricane on record, The Weather Channel says. With a minimum central pressure of 880 millibars, Patricia broke the record of 882 millibars set by Wilma almost exactly 10 years ago.
The storm's rapid growth left authorities in Mexico scrambling to make people safe. Local officials declared a state of emergency in dozens of municipalities in Colima, Nayarit and Jalisco states that contain the bustling port of Manzanillo and the posh resort of Puerto Vallarta. The governor of Colima ordered schools closed on Friday.
Three airports in Patricia's path were shut down: Puerto Vallarta; Manzanillo, in Colima state; and Tepic, in Nayarit.
Locals and tourists were either hunkering down or trying to make last-minute escapes. The lobby of the Sheraton Hotel in Puerto Vallarta was bustling Friday morning, with a long line of people forming to check out. More than 900 guests had rooms at the hotel the previous evening, but many wanted to get out of town before the storm arrived.
About 200-300 people were waiting at Puerto Vallarta's convention center Friday afternoon for buses to take them to safety ahead of Patricia. Miscommunication led several hotels to bring guests there. The building features large glass panels that could be deadly given the storm's high winds, and the center was not prepared to take them.
Steve Routson of Tacoma, Wash., had one more day left on his vacation with 17 friends who have been meeting up here for years. They rode out another hurricane in their hotel in 2002 but have kept returning. Staff from their hotel was at the center waiting with them Friday. He added that they were being taken to a shelter on a university campus.
Residents of a stretch of Mexico's Pacific Coast dotted with resorts and fishing villages boarded up homes and bought supplies.  In Puerto Vallarta, locals reinforced homes with sandbags and shop windows with boards and tape, and hotels rolled up beachfront restaurants. The airport was closed to all flights and all but deserted, but lines formed at a bus station by people anxious to buy tickets to Guadalajara and other inland destinations.
Evacuations were under way in Puerto Vallarta, with officials taking people to 14 shelters, mostly in schools, according to the Jalisco government's webpage. Fire trucks and ambulances vehicles rolled through the streets, sirens blaring, advising people to evacuate. 
For Jose Manuel Gonzalez Ochoa, owner of chicken restaurant Ochoa Pollos, that made up his mind. His family lives in their ground-floor chicken restaurant, Ochoa Pollos, and neighbors told them water was 5 feet deep in the street the last time a hurricane came through.
"We're better off heading up there already," Gonzalez Ochoa said, mentioning a town 30 minutes from the coast. "The whole government is telling us to leave. You have to obey."
At a Wal-Mart in Manzanillo, shoppers filled carts with non-perishables as a steady rain fell outside. Alejandra Rodriguez, shopping with her brother and mother, was buying milk, a large jug of water and items like tuna and canned ham that do not require refrigeration or cooking. The family already blocked the bottoms of the doors at their home to keep water from entering.
Manzanillo's "main street really floods and cuts access to a lot of other streets. It ends up like an island," Rodriguez said.
The Fox Weather Center and the Associated Press contributed to this report.