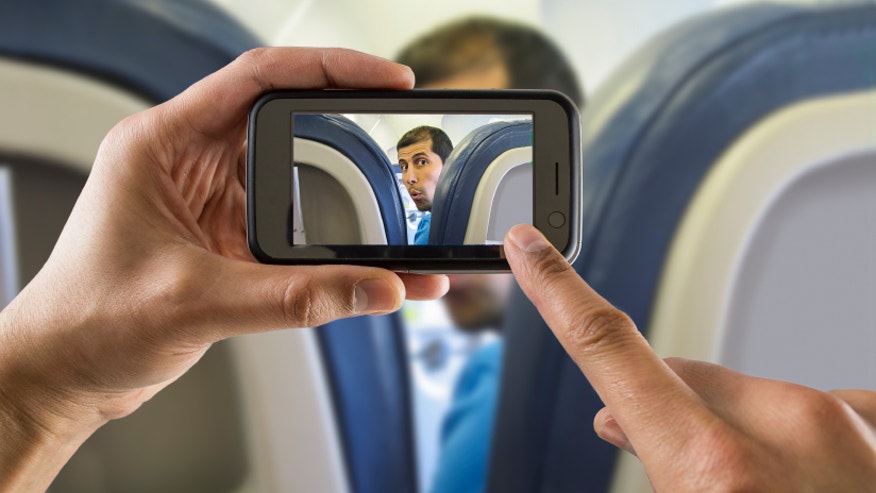 You need to think twice about using that smartphone to shoot video or still pictures on your next flight. Despite the fact that many airlines do not have a firm policy when it comes to onboard videos or photographs, you could find yourself standing at the gate, instead of sitting in your seat, as the plane taxis for takeoff if you try to take videos and photos onboard your flight.   
What Do Airline Policies State?
Many airlines have similar policies, though often not in writing, about taking photos and videos on board flights. In most cases, however, these policies are vague at best. For instance, United says no video can be taken of other customers or the plane and it allows videos only for what it calls "personal events." What that means is completely undefined and at the discretion of the flight crew and what they perceive you to be doing onboard the aircraft.
United's policy presumably means you can take photos of your kids, for instance, or a "selfie" with your wife, but that's about it. Can you take a picture of the seatback in front of you with its built-in movie screen?
In the case of one United passenger, travel blogger Matthew Klint, the answer was a definitive "no." Despite following crewmember instructions not to take another photo, and with only a single photo taken, Klint was escorted off a Newark to Istanbul flight on United. For his version of that episode, read his blog. 
Why Are There Restrictions in the First Place?
Other than the issue of invading someone's privacy, which I completely understand, what's the point of not allowing photos or videos on flights? Is it to prevent potential terrorists from getting information related to the aircraft's layout or design? Is there something that can be discovered in a picture or video that could indicate a potential weakness that might be exploited by hijackers? 
I fly every week, and just returned from Istanbul two days ago, but I can't fathom what the issue might be. Type a search term like "Japan Airlines Seat Configurations" and the entire aircraft layout is a click away.
There also are plenty of other promotional videos and images that showcase the various levels of service available on any given airline and on any given aircraft. What could someone possibly gain from taking a picture of an airplane seat, or in the case of the travel blogger who was thrown off that United flight, a seatback?
Can Pilots Take Photos and Videos?
There are strict rules about in-flight electronics usage by pilots. Both American and European regulators mandate that commercial pilots are not allowed to use personal electronic items, including laptops, tablets and phones, while in flight. Yet some of these pilots are posting amazing photographs, taking while flying a commercial aircraft, on Instagram. Some are even using GoPro cameras to capture video of the flight.
Travelers might be miffed at what appears to be a double standard and may think it's okay to flaunt the rules, too. Don't try it! If you are anyone on the flight crew tells you not to do something, make sure you follow those instructions. Period!
There are no votes taken on planes and there are no appeals. Indeed, there is no due process. The flight crew determines who stays and who goes on any flight. And I think that's a good thing, despite the experience of that blogger on the United flight!
More From TravelPulse
The Coolest Feature From Each of the World's Top 10 Airports
Meet Opal, the Voice-Activated Travel Agent for Booking Flights
Top 10 Family-Friendly Vacation Destinations to Visit During Spring Break
Why Right Now is The Cheapest Time to Rent A Car
Finally! The Truth About Car Rental Insurance
Mark Murphy is a noted travel expert, author and founder of TravelPulse.com.  You can follow him on Twitter at @murphytravels.