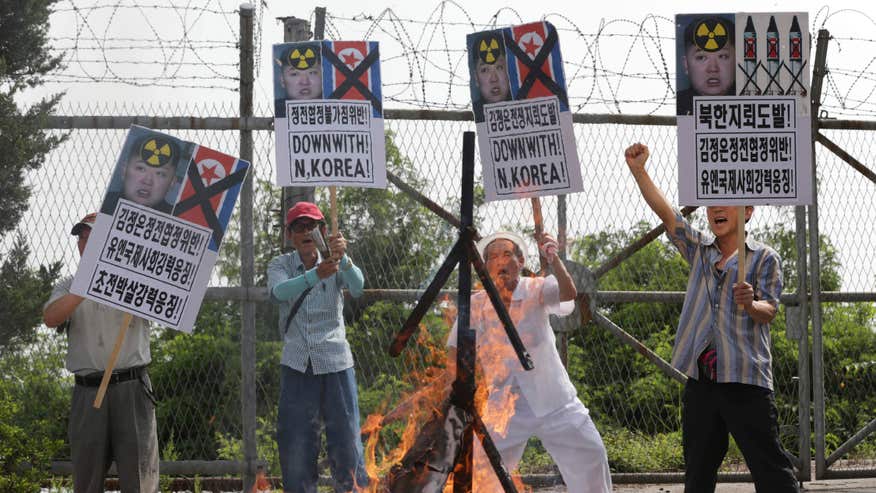 North Korea threatened to attack South Korean loudspeakers that are broadcasting anti-Pyongyang propaganda messages across their shared border on Saturday.
The warning follows Pyongyang's denial that it had planted land mines on the South Korean side of the Demilitarized Zone that maimed two South Korean soldiers last week. Seoul retaliated for those injuries by restarting its loudspeaker broadcasts for the first time in 11 years and suggested more actions could follow.
The North is extremely sensitive about insults of Kim Jong Un and his regime, and its tries to isolate its people from any criticism or suggestions that Kim is anything other than powerful and revered.
The broadcasts are equivalent to a declaration of war, North Korea's army said in a statement. The failure to take down the loudspeakers would result in "an all-out military action of justice to blow up all means for 'anti-north psychological warfare.'"
South Korea's President Park Greun-hye said that her government will firmly respond to any provocation, and urged the North to "wake up" from the delusion that it could maintain its government with provocation and threats, which park claimed would only result in isolation and destruction.
Park said that if the North opts for dialogue and cooperation, it will find opportunities to improve the lives of its people. She also urged the North to accept the South's proposals for building a "peace park" at the DMZ and for reunions of families separated by the border.
Such bombast from the North isn't unusual and this is not the first time Pyongyang has threatened to attack its enemies. Seoul is often warned that it will be reduced to a "sea of fire" if it doesn't do as the North bids, and Washington and Seoul were both threatened with nuclear annihilation in the months after Kim Jong Un took power in late 2011.
Pyongyang's threats are rarely ever backed up, although the North did launch an artillery attack in 2010 that killed four South Koreans. Earlier that year, a Seoul-led international investigation blamed a North Korean torpedo for a warship sinking that killed 46 South Koreans.
On Friday, responding to the allegations by Seoul and the U.S.-led U.N. Command that North Korean soldiers buried the land mines, Pyongyang's powerful National Defense Commission argued that Seoul fabricated the evidence and demanded video proof to support the argument that Pyongyang was responsible. The explosions resulted in one soldier losing both legs and another soldier one leg.
Officials said the mine planting violates the armistice that stopped fighting in the 1950-53 Korean War, which still technically continues because there has never been a formal peace treaty.
The Associated Press contributed to this report.