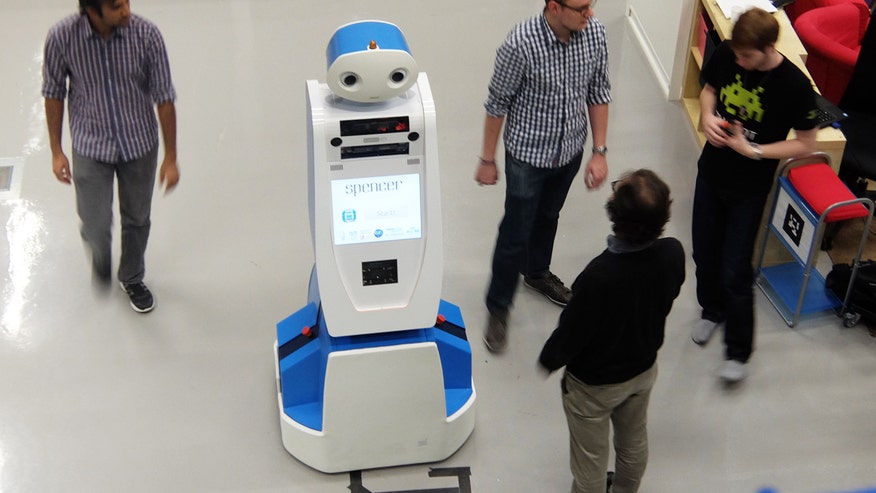 Amsterdam's Schipol airport is taking a futuristic approach to help frantic holiday travelers navigate terminals during the busiest season of the year.
On Monday, the airport unveiled Spencer, a cognitive, mobile robot developed by Sweden's Örebro University, funded by the European Commission and Dutch airline KLM. According to a press release from the university, Spencer will help guide travelers who have quick connections between gates. The project was developed in part after KLM was examining ways to cut down on costs incurred when passengers missed legs of their trip due to difficulty finding gates.
Spencer is programmed with an internal map of Schipol but is also equipped with external camera sensors and a laser scanner to allow for constant surveillance of the surrounding environment, which also enables navigation around moving obstacles. It's a feat with many difficulties, according to the research team behind the robot.
"Navigating an airport is challenging, there is a lot of glass and a constantly changing environment in terms of temporary obstructions, such as parked luggage trolleys and people everywhere," said Achim Lilienthal, a professor of computer science at Örebro and the project leader.
Schipol is testing Spencer for one week and will then use the trial run to make adjustments for a larger test in March when reps from the funding European Commission, along with other "prominent guests," will get to see the robot in action. In addition to navigating fixed and temporary objects, researchers are looking to see how Spencer will react to human behaviors such as slowing down or speeding up and checking to make sure its assigned group is keeping up.
Once the kinks are worked out Lilienthal is confident that the technology used in Spencer can have a wide range of applications for travelers including being able to provide the latest information quickly in several languages.
Says Lilienthal, "This technology can be used in all robots intended to interact with humans. Autonomous trucks for example, would be more widely accepted if they functioned better in their interaction with humans."
Check out an animated model of Spencer in action.