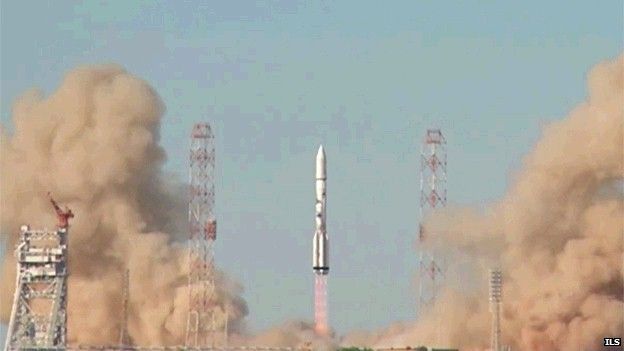 A rocket has launched from Kazakhstan carrying a hugely important spacecraft for London-based Inmarsat.
The new satellite is needed to complete the roll-out of the company's £1bn ($1.6bn), next-generation, global telecommunications network.
The Proton rocket lifted away from the Baikonur spaceport at 17:44 local time (12:44 BST).
Separation of the satellite in orbit is expected early on Saturday.
The new network, known as Global Xpress, will enable Inmarsat to offer its customers substantially faster connections at a lower cost. Having the third spacecraft in orbit means those customers can have coverage right around the world.
Rupert Pearce, Inmarsat's CEO, told BBC News: "We launched our first satellite over Europe, the Middle East and Africa about a year ago; our Americas satellite comes into operation in about a week; and this third satellite, which will go operational by the end of the year, completes a global seamless network."
There was a fair degree of anxiety ahead of the launch, however.
Friday's mission is the first time Proton has flown since its failure to orbit a Mexican satellite in May. The rocket has been plagued with reliability issues in recent years.
But Russian space officials have assured Inmarsat that the cause of the latest loss has been identified and corrected.
The Proton missions are long. Their flight profile includes multiple burns of the Breeze upper-stage.
The Inmarsat profile, from lift-off to separation, is scheduled to take just over 15 and a half hours.
The satellite will then need to make some further refinement manoeuvres of its own to drop into its designated orbital slot at 178 degrees East. This sits over the Pacific, and will fill the gap left by the first two satellites.
Only with the gap plugged can Inmarsat offer seamless coverage for customers who operate worldwide.
"Yes, we're about a year late, and that's very frustrating because we know our customers want this technology," said Mr Pearce. "But I think it's going to be very successful for us, and we've got at least a couple of years' lead on anything else that even looks like this coming to market."
Inmarsat's principal customer base is the shipping sector, but the company also caters for any groups that need telecoms away from a fixed line.
These include oil and gas platforms, aeroplanes, military deployments, aid agencies in disaster areas, and even TV news crews reporting from trouble zones.
Inmarsat is in a constant battle to protect its market dominance in mobile satellite services.
Traditionally, these services – which can be video, phone or simple data connections – have been delivered in the L-band part of the electromagnetic spectrum.
GX marks the company's first real foray into the Ka-band, and the higher frequency will facilitate the higher bandwidths increasingly demanded by customers.
"This is a massive deal for Inmarsat," commented Wei Li, who follows market trends for space consultancy Euroconsult.
"Inmarsat as you know has traditionally built its business around L-band. It's a great frequency; it's very reliable. But its bandwidth is limited, and in the last five years we've seen a lot of maritime, aeronautical, and even land mobile users switch from Inmarsat's L-band to competitors offering Ku or Ka-band.
"So, for Inmarsat, the Ka of Global Xpress is really important to help them maintain their market leader role."
The £1bn investment in Global Xpress includes a fourth satellite, which is built and going through a testing programme at its manufacturer, Boeing, in the US.
This additional platform will be put up as soon as possible should anything go wrong during the Proton mission. And even if not needed for this reason, it will still probably be launched next year anyway to pursue other market opportunities.
Jonathan.Amos-INTERNET@bbc.co.uk and follow me on Twitter: @BBCAmos