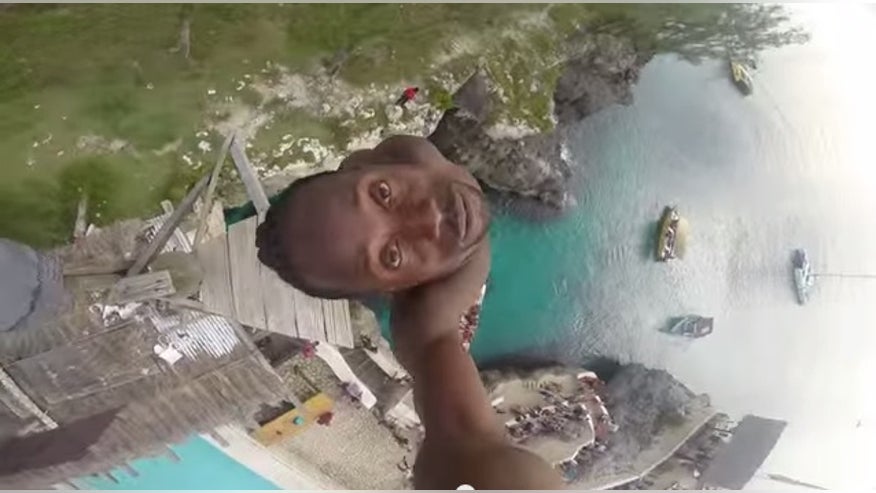 Tourists who visit Jamaica and want to have a bite at Rick's Café in Negril will also get some free extreme entertainment — if they're lucky. 
A Jamaican man by the name of Spider took a death-defyiung dive off a nearby 100-foot cliff into a rocky seabed below and recorded the entire thing on a GoPro camera, according to The Daily Mail.
Rick's Café is a famous hangout where people can regularly watch skilled divers, as well as brave tourists, take extreme leaps. While tourists can jump from about 35 feet up, the higher jumps are left to the regular jumpers.
Spider recorded the before, during and after of the dive on a GoPro camera which was handed to him by a tourist who was visiting Rick's Café. The vacationer, Gareth, told The Daily Mail he paid the diver to record his jump off the cliff so he could post it on YouTube.
FLICKr: Composite of cliff divers at Rick's Cafe, Negril. http://t.co/RrKJipKcBJ — via @jamaica

— jamaica (@jamaica) February 22, 2014
"My wife Keeley and I were on honeymoon and visited Rick's Café," said Gareth. "I believe the divers there make a living by being paid by offering tourists to dive with their GoPros. It was pretty impressive."
Despite the rocky waters below, the diver was emerged from the waters safe and sound.