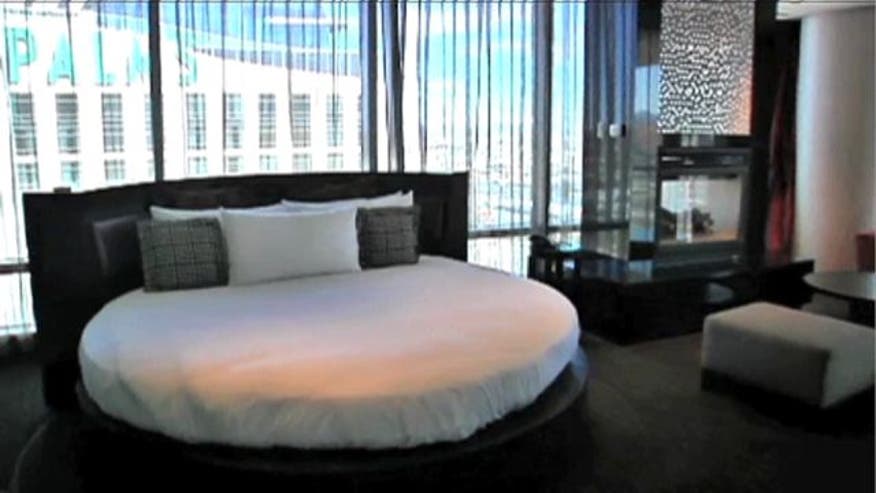 When the ultra rich want to party in Las Vegas they crank it up high–as in 30 stories in the air.
At $35,000 a night, the SkyVilla Suite at the Palms Casino Resort is one of the most expensive hotel suites in the world.
This extravagant hideaway in the sky has 4 bedrooms and a full-sized dining room for ultimate partying pleasure. Guests won't worry about being interrupted by the butler and staff who wait on their every need; the dining room has a separate staff entrance with private kitchen.
The suite also has its own gym –and after a good workout it's time to unwind with a rub down in the massage room.  But the focal point of this jaw-dropping, 9,000-square-foot suite is a private heated pool off of the two story balcony with magnificent views of the Las Vegas strip.
"This pool and the terrace transforms into your very own night club," said Deanna Brooks, Palms Casino Resort luxury sales manager. "Surround sound, your music is out here, neon lights overlooking the strip."
Need a rest from all the excitement?  Guests can take the all-glass elevator upstairs to the second floor which houses the massive master bedroom complete with 360-degree views of the city.
"When you're ready to relax there's a wonderful show tub in your master bedroom," Brooks said, referring to the Jacuzzi tub surrounded by a curtain of glittering beads.
If you've had a little too much partying, you can retreat to your private media den, complete with three televisions, a massive couch and black out curtains.
It's no wonder that countless celebrities and rock stars have stay here.  And while the rest of us mere mortals couldn't afford to step inside, it's not hard to see why the one percent would want to escape here from the everyday world below.
Matt Finn is a part of the Junior Reporter program at Fox News. Get more information on the program here and follow them on Twitter: @FNCJrReporters