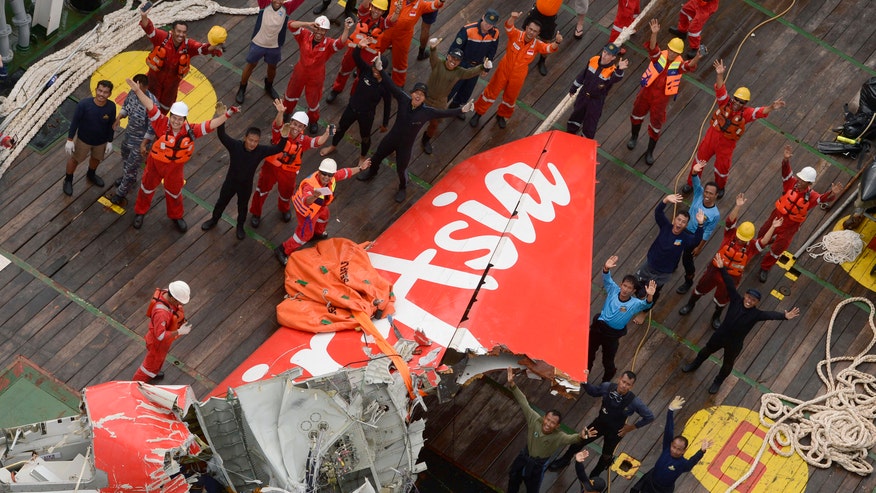 Indonesian investigators said Tuesday that a faulty rudder control system and subsequent "crew action" caused this past December's AirAsia plane crash that killed 162 people.
The Airbus A320 crashed into the Java Sea on Dec. 28, less than halfway into a two-hour flight from the Indonesia city of Surabaya to Singapore.
The jet's flight control computer had a cracked solder joint that malfunctioned four times during the flight and 23 times the previous year, according to investigators.
"Subsequent flight crew action resulted in inability to control the aircraft … causing the aircraft to depart from the normal flight envelope and enter a prolonged stall condition that was beyond the capability of the flight crew to recover," said Indonesia's national transport safety committee.
Bad weather was also previously thought to have contributed to the disaster.
Wreckage from the plane and its black box data recorder were recovered from the sea in January following a massive international search involving dozens of planes and ships.
Analysis at the time found the jet had climbed abruptly from its cruising height before stalling – an automated voice that repeats the words "stall, stall" – had sounded in the cockpit.
In 30 seconds, it rose from 32,000 feet to 37,400 feet.
The plane then dipped back to 32,000 feet, before descending for around three minutes, after which the black boxes stopped.