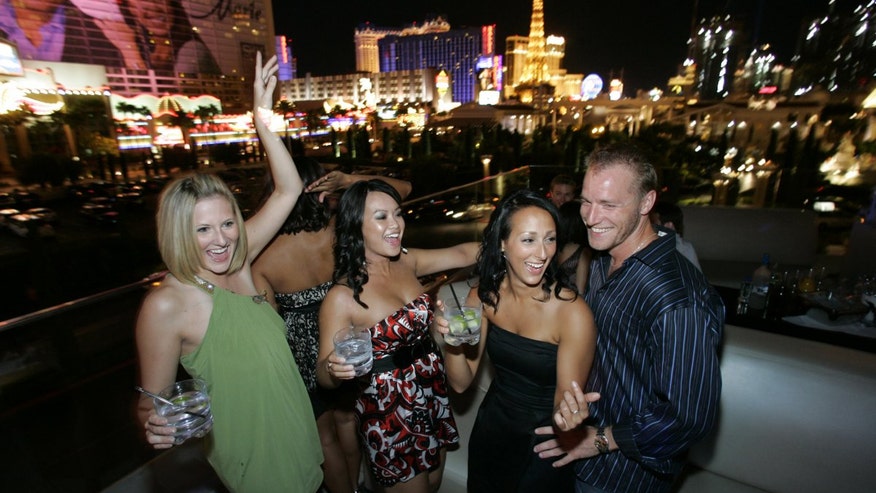 After years of post-recession stagnation, Las Vegas is doing brisk business again, welcoming record numbers of visitors with new hotels, an expansion of high-roller suites, added VIP services and a bevy of marquee restaurants from celebrity chefs.
According to the Las Vegas Convention and Visitors Authority, the number of visitors has been increasing steadily, with more than 41 million so far this year. The city had its best October ever with 3.8 million visitors, and the seven months before that set records as well. "We anticipate our all-time record to be broken in 2015," said LVCVA spokeswoman Courtney Fitzgerald.
"The thirst for increasingly elite experiences in Vegas has grown exponentially."

– Nick McCabe, president of Hakkasan Group
But isn't just that more people are coming. What's noteworthy is what they're coming for.
"There has been a focus on catering to the higher-end luxury traveler headed to Las Vegas for more than just traditional casino offerings," said Stacy Small, CEO of Los Angeles-based Elite Travel International. "As a result of the demand, we've seen Vegas continue to grow its options for this high-spending crowd."
"Business is booming in Las Vegas for us in regards to flights," said Alex Reilly, co-founder of Prestige Private Air. "We went from one flight per week only one year ago to flights seven days a week, due to demand."
"The thirst for increasingly elite experiences in Vegas has grown exponentially," said Nick McCabe, president of Hakkasan Group, the nightlife hospitality company that will open Jewel nightclub at Aria, with five private VIP rooms designed for high spenders, in April.
"Ten years ago, we wouldn't have considered Vegas as a viable market for expansion, but now it's probably the most important global market for us in terms of economics," McCabe said.
The city's hotels, meanwhile, are making big moves to accommodate the increasing numbers of luxury consumers.
Last month, Aria introduced a luxury collection called The Tower Suites. Guests travel to and from the airport in limousines, they're greeted at curbside and there is a dedicated entrance and private VIP lounge for speedy check-in. As soon as guests book a stay, the Tower Suites concierge reaches out to book dinner reservations and arrange show tickets.
5 best shows to see in Las Vegas
This fall, Encore at the Wynn completed a design refresh, updating all suites to include push-button electronic amenities. It added custom linens and floor coverings and commissioned an amenities collection from top-of-the-line cosmetics and fragrance company Molton Brown.
Meanwhile, Caesars will mark its 50th anniversary in 2016 with a $75 million renovation of its Roman Tower, which will be renamed the Julius Tower next month.
While the behemoth resorts expand their luxury offerings, smaller boutique properties that offer a more intimate upscale experience have been opening. Nobu Hotel at Caesars Palace debuted in 2013, and Delano Las Vegas and SLS Las Vegas opened last year. One of the smallest hotels, the Parisian-themed The Cromwell, opened last year with only 188 rooms, all with hardwood floors, glamorous boudoir lighting and chaise lounges. Guests are invited to a Moet & Chandon toast with the general manager on Friday and Saturday nights.
Ultra luxury packages at new Drai's offer fireworks and private jets
But Vegas' biggest draw might be its endless bounty of celebrity chef-driven restaurants.
Recent eateries from boldfaced names in an already saturated market include three-Michelin-starred Alain Ducasse's Rivea at Delano, two-Michelin-starred Julian Serrano's Lago at Bellagio and two-Michelin-starred Michael Mina's Bardot Brasserie at Aria. 
Two popular restaurants from other cities have just opened outposts in Vegas. In October, the New York City hot spot Carbone (whose fans include Michelle Obama and Kim Kardashian) opened at Aria. "Just like New York, Las Vegas is an incredibly competitive dining landscape. We try to differentiate ourselves by not only serving excellent food but by creating a unique experience," said Jeff Zalaznick, Carbone's managing partner. Diners at Carbone enjoy tableside music and a "captain" to guide meals.
And last week, the celebrity favorite Mr. Chow opened at Caesars. "We've been flirting with Las Vegas for decades," says founder Michael Chow. "It's a natural fit."
With so much to do, gaming has long since become beside the point. "The beauty of today's Las Vegas is that we offer such a myriad of options that travelers can build a trip that meets their every wish," said Jenn Michaels, senior vice president of public relations for MGM Resorts.
New Vegas zip line sends people soaring 50 stories above The Strip
"It used to be mainly hedge funders, CEOs and high-limit gamblers looking for that Vegas blowout," said Jared Max Bodner, head of touring for Exclusive Charter Service jets.
"But now it's all sorts – families, bachelor parties, couples, EDM (electronic dance music) fans. Everybody wants to have that over-the-top luxurious Vegas experience."