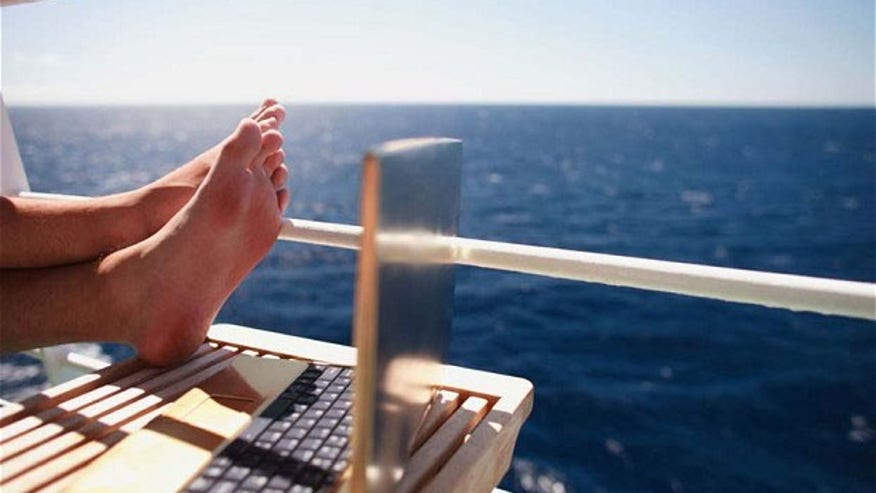 If you haven't taken a cruise in a few years, get ready to be wowed by how much smarter ships have become. Thanks to recent technological advancements and huge investment by cruise lines, the latest ships are tackling age-old peeves and are making the cruising experience smoother and less hassled.
The best example is Royal Caribbean's Quantum of the Seas, which will be the world's most futuristic cruise ship by a long shot when it launches in November. From skydiving (it's a 23-foot tall indoor vertical wind tunnel that creates a feeling of free falling) and bumper cars to robot bartenders, it's packed to the gills with dozens of first-at-sea experiences. But while the bells and whistles are fun, it's the behind-the-scenes technology that allows Quantum to live up to its billing as the world's first "smartship."
"Our thinking was that somebody's going to build state-of-the-art cruise ships, and it might as well be us," says Adam Goldstein, President and COO of Royal Caribbean, Ltd.
Here's how Royal Caribbean and other cruise lines are using smart technology to improve your sailing experience: 
Faster embarkation. Anyone who has ever spent hours shuffling through lines on departure day will appreciate efforts to speed up the check-in process.
Two years ago, Crystal Cruises launched its "fast-track check-in," using bar-coded tickets and scanners on the Crystal Symphony and Crystal Serenity. Once passengers clear security, they can bypass the check-in procedures and board immediately.
Princess Cruises also has sped up check-in by letting passengers print their boarding passes and luggage tags at home.
Royal Caribbean is promising that Quantum of the Seas passengers will be able to go from sidewalk to stateroom in just 10 minutes. Passengers will handle the bulk of their paperwork at home, from generating boarding documents to uploading photo IDs and receiving digital boarding confirmation. At the cruise terminal, there will be no check-in counter, no forms and no lines. Passengers can also track their checked luggage with a smartphone app.
Speedy, reliable Wi-Fi. Traditionally, cruise passengers have had to pay a small fortune for Wi-Fi access that's spotty on a good day. While most cruise ships rely on high-orbiting satellites, Royal Caribbean is the first to use a constellation of eight satellites developed by partner o3b Networks that move across the horizon in a low mid-earth orbit. The satellites' closer proximity to earth allows them to supply a ship with a constant beam of connectivity.
"As a result, Quantum of the Seas will enjoy more bandwidth than all the ships from other cruise lines combined," says Bill Martin, VP and CIO at Royal Caribbean. "This technology simply didn't exist in July, let alone several years ago."
In addition to Quantum of the Seas, three more Royal Caribbean ships will soon receive this game-changing, pervasive Internet access: Anthem of the Seas, launching in spring 2015, and the two largest ships in its fleet, Oasis of the Seas and Allure of the Seas. The unprecedented bandwidth will allow passengers on all four vessels to stream video and even enter Xbox Live competitions with gamers worldwide.
Seamless, paperless voyaging. So long, room key and printed activity schedule. Hello, RFID wristband and mobile app. Just as Disney World's new MyMagic+ planning system replaced the hotel room key and theme park ticket with a radio-frequency identification (RFID) wristband and an app, cruise lines are using similar technology to streamline the onboard experience.
Most major cruise lines now provide apps that help passengers navigate the ship and plan their time. Royal Caribbean's "smart concierge" also incorporates an RFID WOWband wristband that passengers tap to enter their cabin and make onboard purchases.
Transformational spaces. Disney Cruise Line has long been a leader in using technology to create immersive and entertaining experiences. During dinner in the Animator's Palate restaurant on the Disney Wonder and Disney Magic, framed black-and-white pencil sketches of Disney characters transform into full-blown, colorized animations that actually move. The "enchanted art" scattered throughout the Disney Dream and Disney Fantasy may look like paintings, but stand in front of one and the picture suddenly becomes animated. Thanks to facial recognition technology, a painting will never show you the same sequence twice.
Creating the iconic Disney magic means that technology always stays in the background, says Bob Zalk, executive producer at Walt Disney Imagineering.  "It needs to be invisible to our guests. We want to ensure the technology doesn't come to the forefront of the story."
In contrast, high-tech entertainment will be front and center on Quantum of the Seas. In Two70, the ship's cavernous great room, passengers can enjoy an unobstructed 270-degree panoramic view of the sea through mammoth, three-story panes of glass. By night, those enormous panes become projection screens upon which may appear any scene imaginable, such as the New York skyline or a swimming dolphin. In addition, six "roboscreens" will descend and soar, twist and move in synchronicity, creating an infinite number of visual effects.
Inside cabins with a view. Several years ago, Disney Cruise Line wowed passengers on the Disney Dream and Disney Fantasy with its "magical portholes," which provide lower-priced interior cabins with real-time virtual exterior views identical to those in ocean-view staterooms. With Quantum of the Seas, Royal Caribbean is dialing up the illusion with virtual balconies. The 80-inch LED screens create floor-to-ceiling views that are so realistic, you'll think you splurged on a high-end stateroom.
Bye-bye, claustrophobia. Hello, future.
Suzanne Rowan Kelleher is the family vacations expert at About.com.