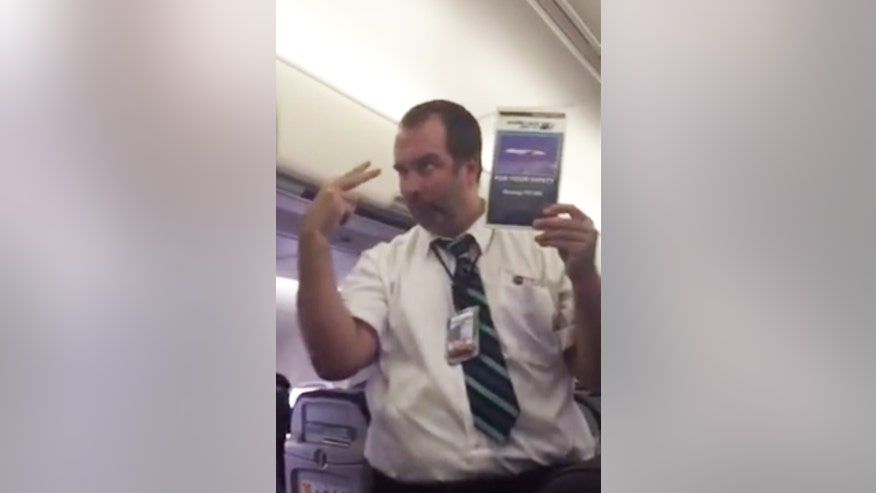 Forget about pre-flight comedy routines or the tour-de-force "Top Gun" reenactment.  One WestJet flight attendant has just upped the safety demonstration game.
In video posted to Facebook on Aug. 2, a flight attendant from the Canadian discount airline is seen going through the usual safety routine with flamboyant antics. Speaking no words, the attendant gestures wildly while showing passengers the safety booklet, seatbelt, and flotation device walk through. Passengers can be heard laughing as the attendant completes his routine.
After the hilarious demonstration ends, the cabin goes wild and the attendant takes a well-deserved bow.
An employee of TM'z Veterinary Clinic  in Saskatchewan took the video of the performance, which has since been viewed over 4.5 million times.
"Flying home from the fabulous TPLO conference…. We had the best in flight crew on West Jet. Laughed so hard. Only had a chance to video the French portion of the pre flight instructions! Enjoy, we certainly did!" the clinic employee posted.
Flying home from the fabulous TPLO conference…. We had the best in flight crew on West Jet. Laughed so hard. Only had a chance to video the French portion of the pre flight instructions ! Enjoy, we certainly did !

Posted by TM'z Veterinary Clinic on Saturday, August 1, 2015