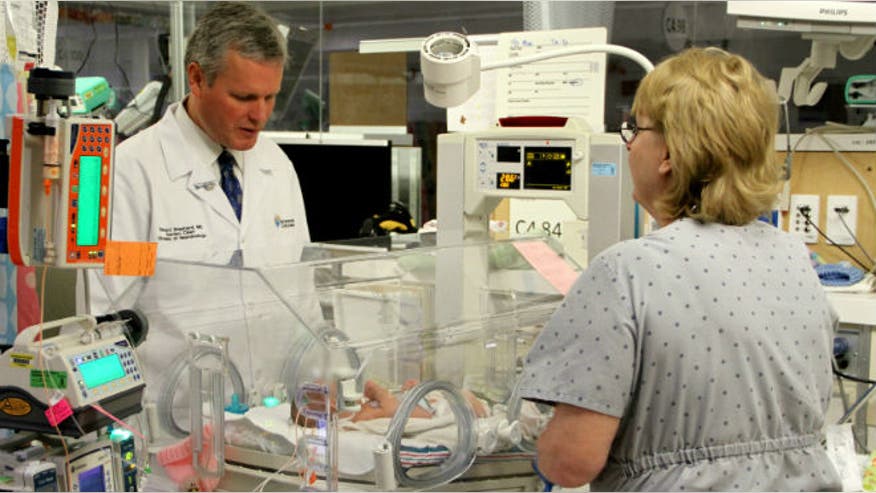 Caffeine and Viagra are typically used to treat adult medical conditions, but they may be life-saving for preemie babies.
Doctors at Nationwide Children's Hospital use the medications as part of the comprehensive care for the tiniest babies, according to a news release timed to World Premature Day.
Premature babies can forget to breathe continuously, but caffeine has proven to help them remember by stimulating their brains, diaphragms and lungs. Caffeine is given to nearly all of the babies in the hospital's neonatal intensive care units (NICUs) as they come off ventilators.
"The better their lungs works in the short term, the better their brain health will be in the future, preventing lifelong neurologic problems," Dr. Edward Shepherd, section chief of neonatology at Nationwide Children's, said in a news release. "Consistently giving these little babies the equivalent of a cup of coffee can have remarkable results."
Nationwide Children's, which treats more than 4,400 preemies every year, also uses sildenafil, or Viagra, for the 1 to 2 percent of babies who have pulmonary hypertension, a condition that makes it too difficult for babies' hearts to pump blood through their lungs.
While the Food and Drug Administration (FDA) hasn't approved its use in newborns, the drug can be used in the intensive care setting. When used in preemies, it reduces pulmonary vascular resistance, relaxing the lungs and keeping the heart from having to work as hard. Sildenafil has nearly eliminated death due to the pulmonary hypertension for babies in the hospital's NICU.
"Caring for babies born prematurely is different than caring for adults or older children. We adapt what has been learned in adults and pediatrics for our very special, unique neonates," Shepherd said. "These babies' lives depend on medication that is reliable and can help lead them into a healthy childhood."