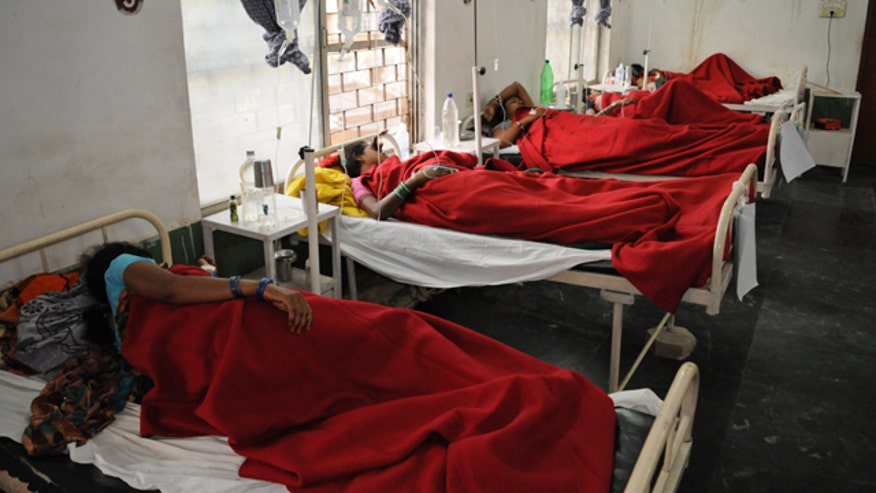 NEW DELHI –  The doctor who conducted sterilization procedures after which 13 women died in central India has been arrested, a top medical official said Thursday.
Dr. R.K. Gupta, who had been hiding since Saturday's operations, was arrested at a relatives' home in Bilaspur city late Wednesday, said Dr. S.K. Mandal, the chief medical officer of Chhattisgarh state.
Gupta had performed over 80 sterilization surgeries in six hours — a clear breach of government protocol, which prohibits surgeons from performing more than 30 sterilizations in a day, Mandal said.
A total of 83 women had the surgeries as part of a free government-run mass sterilization campaign and were sent home that evening. But dozens became ill and were rushed in ambulances to private hospitals in Bilaspur.
Mandal said at least 13 women died and dozens more were hospitalized, including at least 16 fighting for their lives.
He said that investigators were also trying to determine whether the women, all of them poor villagers, had been given tainted medicines during their time at the "health camp" where they underwent the operations.
Experts say the women's deaths are the result of a complete lack of medical oversight and the fact that the government in India sets sterilization targets as part of its efforts to stabilize India's booming population.
India's government had said it stopped setting targets for sterilizing women in the 1990s.
But doctors and human rights workers have alleged for years that targets exist — which would lead to inevitable coercion in villages where most people have very limited access to both education and health care.
Mandal has said earlier that Gupta was likely under pressure to achieve his district's target of about 15,000 sterilizations.
In January, Gupta was feted by the state government for performing 50,000 laparoscopic tubectomies.