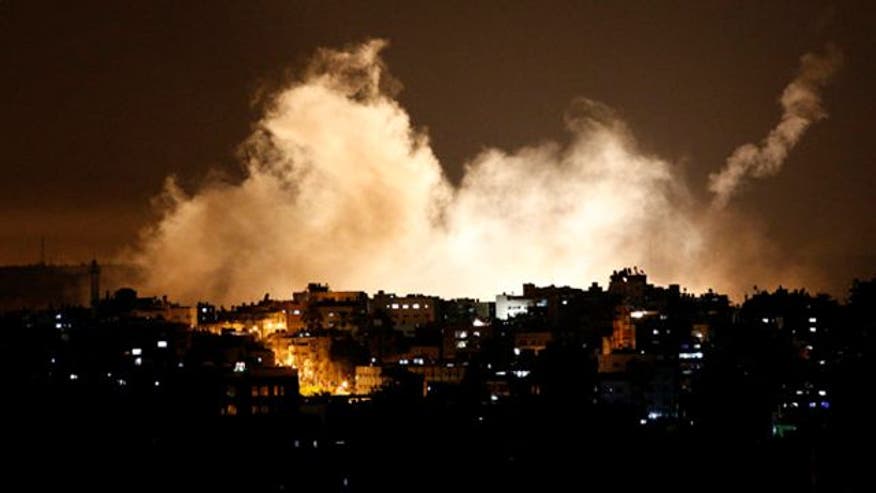 A seven-hour humanitarian cease-fire period began in the Gaza Strip Monday, hours after an Israeli airstrike killed a leader of the Islamic Jihad militant group. 
The group said that its commander in the northern part of the strip, Daniel Mansour, died when the Israeli strike hit his home just before dawn Monday. The Islamic Jihad group is an ally of Hamas, which controls the Gaza Strip. However, The Wall Street Journal reported that Islamic Jihad may be using the present fighting to increase its clout in the region.
U.S. and Israeli officials told the paper that Islamic Jihad has closer ties to Iran than Hamas, and said the group might have been pressured by Iran to continue fighting in defiance of any truce. 
The Israeli military said the cease-fire, which began at 10 a.m. local time (3 a.m. Eastern Time), would not apply to areas where troops were still operating and where they would respond to any attacks.
Israel has been drawing down its ground operation since the weekend but has kept up heavy aerial, offshore and artillery bombardments of the strip. The Gaza war, now in its fourth week, has left more than 1,800 Palestinians and more than 60 Israelis dead. However, it is unclear how many of the Palestinian dead are civilians. 
Hamas spokesman Sami Abu Zuhri said the group was skeptical about the Israeli truce announcement. "We do not trust such a calm and call on our people to take caution," Zuhri said.
The Journal reported Monday that U.S. officials are concerned that divisions between the political and military wings of Hamas have contributed to difficulties in securing a lasting cease-fire. Since most of the militant group's political leaders — who are more likely to support a truce — live outside of Gaza, officials and analysts say that it is possible that their messages are not being transmitted quickly enough to fighters on the ground.
Israel launched its military operation in Gaza on July 8 in response to weeks of heavy rocket fire and has since carried out more than 4,600 airstrikes across the crowded seaside territory. It sent in ground forces on July 17 in what it said was a mission to destroy the tunnels used by Hamas to carry out attacks inside Israel.
Since the fighting erupted, Hamas has fired more than 3,200 rockets into Israel, many of them intercepted by Israel's Iron Dome defense system.
Overnight, Israeli forces carried out new airstrikes while Israeli tanks and navy gunboats fired dozens of artillery shells, targeting houses, agricultural plots and open areas, Gaza police said. They said Israeli jet fighters destroyed three mosques, nine houses, five seaside chalets and a warehouse for construction material.
The Gaza police said Israeli navy boats also approached the northern coast of the strip and soldiers tried to land in the area. On the ground, there were clashes in the southern town of Rafah and southeast of Gaza City, they said. The Israeli military had no immediate comment.
U.N. officials claim more than three-quarters of the dead in the war have been civilians, including the 10 people killed Sunday at a U.N. school that has been converted into a shelter in the southern Gaza Strip town of Rafah.
U.N. Secretary-General Ban Ki-moon called the attack a "moral outrage and a criminal act" and demanded a quick investigation, while the U.S. State Department condemned the strike in unusually strong language.
According to witnesses, Israeli strikes hit just outside the main gates of the school on Sunday. The Red Crescent, a charity, said the attack occurred while people were in line to get food from aid workers. Gaza health official Ashraf al-Kidra said in addition to the dead, 35 people were wounded.
Robert Turner, director of operations for the U.N. Palestinian refugee agency in Gaza, said the building had been providing shelter for some 3,000 people. He said the strike killed at least one U.N. staffer.
"The locations of all these installations have been passed to the Israeli military multiple times," Turner said. "They know where these shelters are. How this continues to happen, I have no idea."
Lt. Col. Peter Lerner, an Israeli military spokesman, said Sunday that Israel had detected some 30 tunnels that were dug along the border and had substantially minimized "this huge threat."
But he warned the operation was not over and that Israel would continue to target Hamas' rocket-firing capabilities and its ability to infiltrate Israel.
Israeli Prime Minister Benjamin Netanyahu has come under international pressure to halt the fighting due to the heavy reported civilian death toll.
U.N. shelters in Gaza have been struck by fire seven times in the latest Israeli-Hamas round of fighting. UNRWA, the U.N. agency that assists Palestinian refugees, says Israel has been the source of fire in all instances. But it also has said it found caches of rockets in vacant UNRWA schools three times.
Israel accuses Hamas of using civilian areas for cover and says the Islamic militant group is responsible for the heavy death toll because it has been using civilians as "human shields."
Israeli artillery shells slammed into two high-rise office buildings Sunday in downtown Gaza City, police and witnesses said. Al-Kidra said more than 50 Palestinians were killed, including 10 members of one family in a single strike in the southern Gaza Strip.
Israel said that it attacked 63 sites on Sunday and that nearly 100 rockets and mortars were fired at Israel.
The Associated Press contributed to this report.