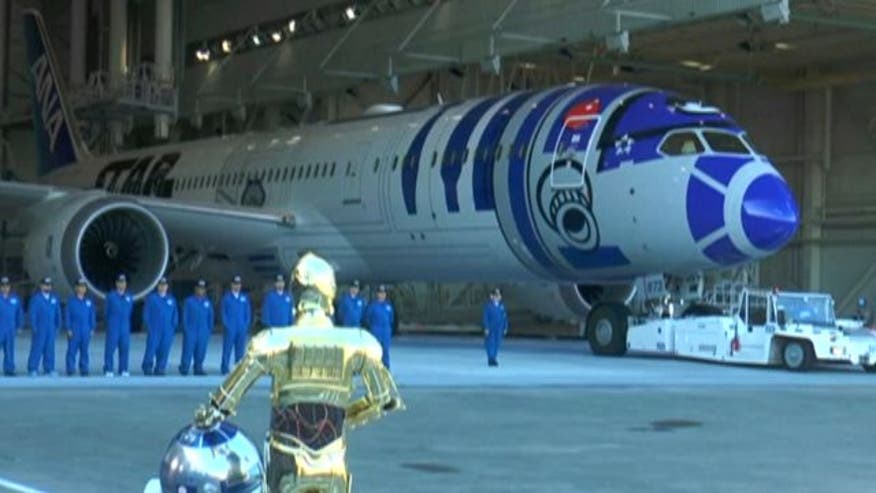 Silver screen characters are taking to the skies with two new themed commercial aircraft featuring Disney characters. 
WestJet, a Canadian discount airline, has teamed up with the Walt Disney Company to create a one-of-a-kind aircraft painted with characters from the hit movie "Frozen."
Elsa, Anna and Olaf, characters from the highest grossing animated film of all time, all appear on the exterior of the bright-blue plane. Inside, images from the movie and snowflake decals feature prominently on overhead bins, bulkheads, lavatory mirrors and headrests. Onboard, guests will be able to watch a selection of on-demand Disney videos. 
"This aircraft takes the relationship between WestJet and Disney to a completely new level of cool," Bob Cummings, WestJet Executive Vice-President said in a statement. "Two years ago, we launched the #MagicPlane, our first Disney-themed aircraft, and no matter where it flies throughout our network, it is the most-anticipated and most-photographed aircraft in WestJet history."
And if that doesn't get you revved up, the first of three Star Wars themed aircrafts from Japanese airline, All Nippon Airways (ANA) took to the sky this past weekend from Tokyo to Vancouver and back. 
ANA who serves purple ice-cream, sushi, prawns and cheeseburgers is in the front line of fun innovative flying. The exterior of the plane, painted to resemble the droid R2-D2, flew over Tokyo's Haneda Airport, while Star Wars fans, clothed in the finest outer space gear enjoyed every minute.
The new "Frozen" plane has been in the works for over a year. Painters from Canada, the U.S. and Germany  worked on the aircraft in Fort Worth, Texas over a 21 day period—working in 12-hour shifts around the clock. According to WestJet, over 640 liters of paint were used, and the artists even added sparkles at the end to make sure the aircraft shimmered like a real winter wonderland.
According to WestJet, the Boeing 737-800 will fly throughout Canada as well as make trips to and from Orlando so Disney fans can visit their snowy idols in person.  
ANA's "Star Wars" plane will fly domestically in Japan and from Tokyo to Beijing, Jakarta, San Jose, Brussels, Munich, Paris and Vancouver.