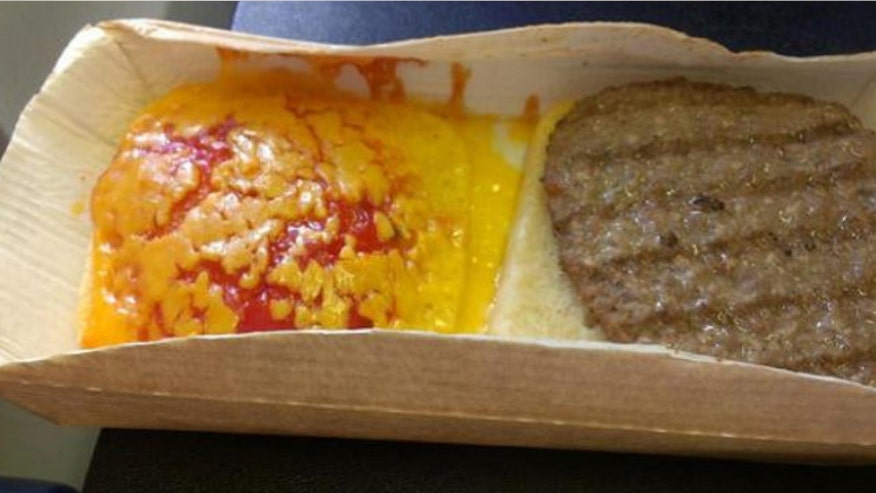 AirlineMeals.net has been compiling the best, weirdest, funniest and strangest airline meals from around the world since 2011. Have a look at some of the worst –and best –and click here if you want to submit your own.
It's no surprise that some airline meals are pretty much the worse. Sure, we complained when many airlines did away with offering food altogether but that doesn't mean you won't get stuck with the occasional grew goo stew.
AirlineMeals.net has been compiling the weirdest, funniest and strangest airline meals from around the world since 2011. The founder, who just goes by Marco, is based in Netherlands, says he is no way associated with the airline industry—he just created a site because he knew airline food is something about which we all commiserate.
"I have no idea why airline food is so vilified. Fact is that it's still something people like to complain about," Marco told FoxNews.com. " Maybe it's human nature to want to complain about things."
So far users around the world have uploaded over 34,000 and the list keeps on growing. With over 680 airlines represented, Airlinemeals.net is a treasure trove of insight into the airline catering industry. From boxed meals, to buy-on-board, even the super fancy service with metal silverware– Marco has seen it all but definitely has some personal favorites.
"I had great meals on Qatar Airways and Vietnam Airlines. But then again, those were meals in business class, you'd say you almost can't get a bad meal in business or first class," he says.
Travelers can submit snaps of full meals, menu cards, lounge food or even amenity kits. They also like to keep track of flight origin, destination, ticket class and flight duration among other flight factors. At the end of the day, Marco thinks people need to remember where they are. 
"It seems difficult to please everybody. But still, it's an aircraft, not a restaurant."