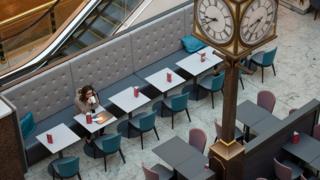 The UK's dominant services sector maintained its growth in January, according to the latest PMI survey.
The Markit/CIPS index put the sector at 55.6 last month, barely changed from December's reading on 55.5. Any figure above 50 suggests that output in the sector is expanding.
The service sector accounts for more than three quarters of the UK economy.
Reports earlier in the week put the manufacturing sector at 52.9 and construction at 55.0.
"The three PMI surveys for January collectively point to a slight upturn in the rate of economic growth, consistent with GDP rising at a quarterly rate of 0.6% in the first quarter, up from 0.5% in the fourth quarter, if current levels are sustained," said Chris Williamson, chief economist at Markit.
But he warned that "cracks are beginning to appear in the country's resilience to the various headwinds".
"Worries about a Chinese 'hard landing', financial market jitters, higher interest rates in the US, more austerity at home and the possibility of 'Brexit' and EU tensions have collectively pushed the business mood in the dominant service sector to its darkest for three years," he said.
And there was a pessimistic note from Samuel Tombs, chief UK economist at Pantheon Macroeconomics: "We continue to think growth will be even weaker than the PMI implies, because it excludes the oil and public sectors, which are both retrenching."
"Hopes that the MPC will loosen monetary policy to combat this slowdown continue to look misplaced, however, as the labour market is still tightening and generating inflationary pressure."
The pound strengthened slightly against the dollar and the euro following the release of the report.
Earlier, the National Institute of Economic and Social Research (NIESR) predicted that the economy would grow by 2.3% this year, unchanged from its previous forecast in November.