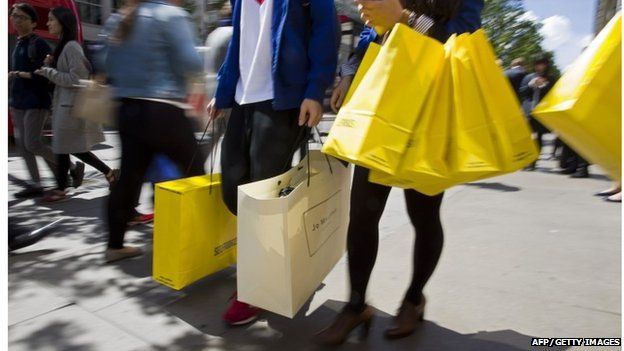 UK retail sales rose by 0.2% in May, a slowdown from a rise of 0.9% in April, after shoppers bought fewer clothes.
The Office for National Statistics said clothing sales were 1.6% down on April's level, the biggest fall since September 2014. The fall included a drop in internet clothing sales.
Economists had expected retail sales to be flat in May after sales in April were boosted by unusually warm weather.
By contrast, May was cooler than normal.
Food stores had a good month, with volumes up 0.6%, the biggest increase since December. Household goods stores and petrol stations also saw growth.
Some economists have predicted that UK consumer spending could be on track for a strong year as low inflation and rising wages give households more disposable income.
'Survival mode'
After a sunny April, May "must have felt like the return to a long winter for retailers" said Keith Richardson, managing director of retail at Lloyds' commercial banking arm.
"Despite falling prices and the feel-good factor of a royal birth, savvy shoppers have had caution ingrained into their spending habits and are not yet ready to break out of their thrifty survival mode."
However, despite the relatively modest sales rise, Howard Archer, chief UK and European economist at IHS Global Insight said "the underlying trend looks healthy".
"The prospects for retail sales and consumer spending look bright," he said. "Consumer confidence is pretty elevated, employment is high and rising, inflation is negligible and earnings growth is improving."
Compared with the year before, retail sales rose 4.6%, which the ONS said was 26th consecutive month of year-on-year growth. Average prices were down 2.7% from a year earlier.
"In light of continued growth in sales, fears that falling prices would encourage consumers to delay spending remain very wide of the mark," said Martin Beck, senior economic adviser to the EY Item Club.
"However, falling prices are bad news for retailers margins', particularly in light of the latest earnings data which showed earnings growth in the retail sector rising at an annual rate of 5% in the three months to April," he added.