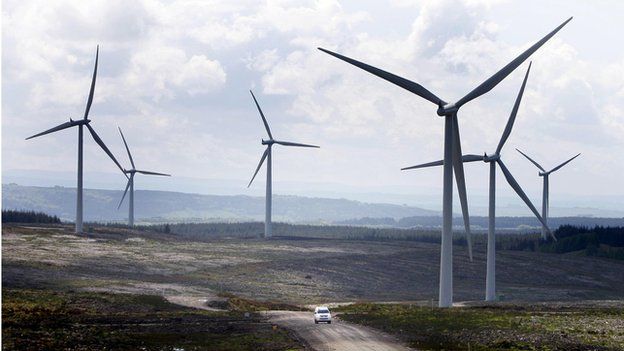 The UK and Scottish energy ministers will meet in Scotland later this year following a row over the early end to subsidies for new onshore wind farms.
Scottish Energy Minister Fergus Ewing invited Amber Rudd to Scotland during a meeting in London.
The decision to end the subsidies was a Conservative manifesto commitment.
But Mr Ewing said the move would disproportionately affect Scottish business and jobs.
The ministers spoke at a the Global Offshore Wind 2015 conference.
It was the first time the pair had met since the UK government announced new onshore wind farms will be excluded from a subsidy scheme from 1 April 2016, a year earlier than expected.
Communities
The UK government argue this would give local communities a greater say on wind farms in their area.
But Mr Ewing has invited Ms Rudd to Scotland to meet with developers and communities in Scotland who have invested money in renewables schemes which could now be in jeopardy.
He said: "Since it was announced I have met with key representatives from the industry to listen to their concerns about the impact on both developers and the supply chain.
"I reiterated these points this morning during the meeting and stressed how important it was for the Scottish government to be involved in how any changes to the Renewables Obligation are developed, including maximum flexibility around grace periods for developers that could be affected.
"This is especially important as the decision will have a disproportionate impact on Scotland as around 70% of onshore wind projects affected by the UK government policy change are located here."
A spokesman from the Department of Energy and Climate Change said Ms Rudd had already planned to visit Scotland later in the year and this would include a meeting with Mr Ewing.
PMQs
David Cameron went on to defend the decision to end the subsidies early during Prime Minister's Questions.
SNP Trade and Investment spokeswoman Tasmina Ahmed-Sheikh had told Mr Cameron it sent out a message to the world that Scotland was "closed for business" when it came to future in investment in renewable energy.
But the Prime Minister said it was a "privilege" to be able keep a Conservative election promise.
Energy firms had been facing an end to subsidies in 2017.
The funding for the subsidy comes from the Renewables Obligation, which is funded by levies added to household fuel bills.
While subsidies will end from 1 April 2016, there will be a grace period for projects which already have planning permission.
About 3,000 wind turbines across the UK are awaiting planning consent.
Scottish Renewables have said the move was "neither fair nor reasonable" and could cost Scotland up to £3bn in business investment.