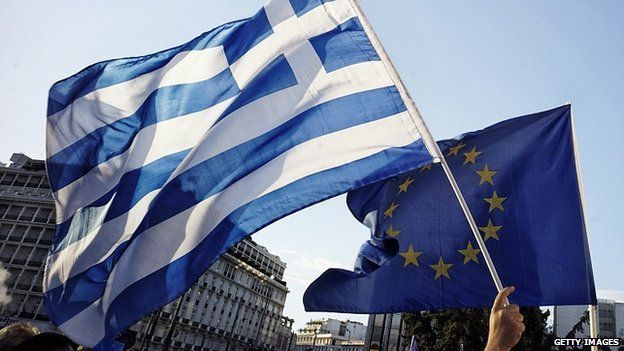 Eurozone leaders have echoed hopes that a deal can be struck within days to stop Greece defaulting on its debt.
German Chancellor Angela Merkel said new proposals offered by Greece constituted "some progress". But she said more work was needed and "time is short".
Greece must repay a €1.6bn (£1.1bn) International Monetary Fund (IMF) loan by the end of the month.
If it fails to do so, it risks crashing out of the single currency.
Although no deal has been struck, the blockages on a way to a deal appear to have been cleared, BBC Europe Correspondent Damian Grammaticas reports from Brussels.
Earlier, Greece's economy minister outlined new taxes on businesses and the wealthy that he hoped would break a deadlock with creditors.
The move was received with cautious optimism by leaders of 18 other eurozone nations gathered for an emergency summit in Brussels.
Greek Prime Minister Alexis Tsipras met the heads of Greece's three international creditors – the IMF, the European Commission and the European Central Bank (ECB) – in Brussels on Monday ahead of attending the summit.
After the talks ended on Monday evening, Mrs Merkel said that everyone taking part wanted Greece to stay in the eurozone, "myself included".
"The proposals offered by Greece today constitute some progress. However, it became clear during our discussions that there is a lot of work to be done and time is short," she said.
Analysis by Chris Morris, BBC Europe correspondent
As political and economic pressure mounted on Greece, it finally gave some ground – with proposals to cut its overall pension bill and raise more money from VAT. As he left the summit, Greek Prime Minister Alexis Tsipras said the ball was now in the court of the European leaders. But after a bruising five months of negotiation, there is still plenty of scepticism about Greece around the eurozone. Earlier, finance ministers prompted by Germany's Wolfgang Schauble argued about whether capital controls should be introduced, as significant amounts of money continue to be withdrawn from Greek banks.
Stock markets rise on hopes of deal
Walker: The options for Greece
French President Francois Hollande said Greece and its creditors were "moving towards an accord".
He also said there was "still work to be done" for a solution to be in sight when eurozone finance ministers meet again on Wednesday.
European Council President Donald Tusk said the new Greek proposals were viewed as a "a positive step", and that they would be "further assessed over the coming hours".
"As the last hours have shown we can see all parties fully committed to finding a solution," he added.
He said the aim was to have eurozone finance ministers approve a package on Wednesday evening that would be put to eurozone leaders for final endorsement on Thursday morning.
European Commission President Jean-Claude Juncker – one of the key power-brokers – told a late-night news conference: "I am convinced that we will come to a final agreement in the course of this week".
Meanwhile, thousands attended a rally outside the Greek parliament in Athens on Monday in support of Greece staying in the eurozone. It came a day after an anti-austerity protest backing the government's tough stance towards creditors.
Talks have been in deadlock for five months with Greece's three main creditors unwilling to unlock the final €7.2bn tranche of bailout funds until Greece agrees to economic reforms.
Greece's left-wing Syriza government has opposed reforms that it says will impose unnecessary hardship on the Greek people.
Earlier on Monday, Greece's economy minister Giorgios Stathakis said the new proposals included new taxes on business and the wealthy but no further cuts in pensions or public sector salaries.
He also said there would be no increase in VAT on electricity.
The European Central Bank (ECB) again increased its emergency funding for Greek banks on Monday after anxious savers withdrew more than €4bn in recent days.
Greek debt talks: Main sticking points
Greece will not accept cuts to pension payments or public sector wages, saying two-thirds of pensioners are either below or near the poverty line
International creditors want pension spending cut by 1% of GDP – it accounts for 16% of Greek GDP. They say they want to target early retirement, not lower-income pensioners
EU officials say Greece has agreed to budget surplus targets of 1% of GDP this year, followed by 2% in 2016 and 3.5% by 2018; Greece says nothing is agreed until everything is agreed
Creditors also want a wider VAT base; Greece says it will not allow extra VAT on medicines or electricity bills
Greece complains creditors focus on increasing taxes instead of cracking down on tax evasion; IMF is concerned Athens is not offering credible reforms