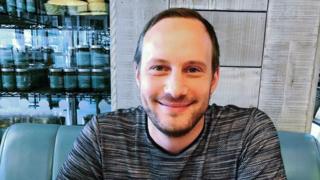 Daniel Lewis, 33, was struggling to save up to buy a house, despite saving for years from his full-time 37-hour-a-week job.
To increase his earnings, he started doing an additional 14 hours a week of part-time, or gig economy, work.
The number of people doing gig economy work has doubled in the past three years, the TUC trades union body says.
Young people are most likely to be doing this type of flexible, insecure work.
The TUC says the majority of people using apps such as Uber or Handy to find work have other jobs.
This shows that "working people are battling to making ends meet", said TUC chief Frances O'Grady.
'We were stuck'
Mr Lewis and his partner Zoe, based in Leeds, had a target of saving up £9,000 for a house deposit.
However, they still didn't have enough money after saving money from their monthly wages into an ISA and using the government's help-to-buy scheme.
In 20 months, Mr Lewis managed to earn £4,500 extra after tax to help them reach their goal, by working an additional 3.5 hours a day, four times a week, as a driver for Amazon and Uber Eats.
"We were stuck in the rental market for years – you tend to find you don't have anything left at the end of it, especially those who come out of university," he told the BBC.
"It was literally the only way we could get onto the property ladder, given the amount of money you have to save these days."
Even though they now have a house, Mr Lewis continues to do gig economy work in order to help with additional expenses, such as doing up their garden.
"I've continued to do it because you just get used to having the money I suppose," he added.
He was attracted to work for Amazon and Uber Eats because both services pay their drivers once a week and offer instant, flexible working.
These benefits outweighed the fact that he had to pay for his own petrol and do his own taxes, because gig economy workers are classed as being self-employed.
One in 10 working age adults now find gig economy work through apps or websites, the TUC said, compared with about one in 20 in 2016.
The data comes from a survey of 2,235 UK residents carried out by the University of Hertfordshire and Ipsos Mori.
The survey of 2,235 UK residents found that nearly two-thirds of workers using apps to find work at least once a week were aged between 16 and 34.
Ms O'Grady said: "Huge numbers are being forced to take on casual and insecure platform work – often on top of other jobs.
"But as we've seen with Uber, too often these workers are denied their rights and are treated like disposable labour."
Changing world of work
Ursula Huws, professor of labour and globalisation at the University of Hertfordshire, said the work being sought was not just taxi driving and food delivery.
"They're only a small proportion of gig workers. They're outnumbered by an invisible army of people working remotely on their computers or smartphones or providing services in other people's homes," she said.
Six in 10 of the respondents to the survey admitted buying services in this way at some point.
The TUC said the survey showed that it was time for all workers to get basic rights such as the minimum wage and holiday.
"The world of work is changing fast and working people don't have the protection they need," Ms O'Grady said.
At the end of last year, the government said it was introducing measures to give better protection to workers on zero-hour contracts, agency employees or gig economy workers.
Staff would have to be told details of their rights from their first day in a job, including eligibility for paid and sick leave, and given the right to require more predictable hours.
In February 2018, the Department for Business, Energy and Industrial Strategy published research showing that 4.4% of the population in Great Britain had worked in the gig economy in the last 12 months.