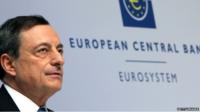 The European Central Bank (ECB) has said the eurozone's recovery is set to "broaden", as it raised its inflation projections for 2015.
ECB president Mario Draghi's comments came after the bank left its key interest rate unchanged at 0.05%.
Inflation in the eurozone is now expected to be 0.3% this year, against the ECB's previous prediction of zero.
Earlier on Wednesday, figures had indicated signs of improvement in the eurozone's jobs market.
'Loss of momentum'
The European Central Bank expects inflation to stay low in the coming months, as a result of lower oil prices, but rise by the end of the year.
Figures released on Tuesday showed the annual inflation rate in May rose to 0.3%, after five months of falls or stagnation.
Earlier this year, the ECB began a €60bn-a-month asset-buying programme in an attempt to stimulate the economy and avoid deflation.
Mr Draghi said the programme was proceeding well, and reiterated that it was intended to run until the end of September 2016.
"Our monetary policy measures have contributed to a broad-based easing in financial conditions, a recovery in inflation expectations and more favourable borrowing conditions for firms and households."
However, while Mr Draghi said the recovery was "on track", he said the ECB had "expected stronger figures".
"There has been a loss or some loss of momentum… mostly due to weakening of the economies outside the euro area, emerging markets mostly."
Unemployment falls
Earlier on Wednesday, the OECD lifted its 2015 growth forecast for the eurozone to 1.4% from 1.1%, and the 2016 forecast to 2.1% from 1.7%.
It credited the monetary easing programme by the European Central Bank as one factor behind the increase.
Other data released on Wednesday showed eurozone unemployment improving.
Official figures showed the jobless rate fell to 11.1% in April, down from 11.2% the month before.
Separately, a survey from research firm Markit indicated eurozone companies created jobs at the fastest pace in four years last month.
Job creation accelerated last month in Germany, France and Spain, Markit said, with job growth in Spain hitting its fastest rate for more than seven years.
However, the survey also suggested that economic growth in the eurozone's private sector lost steam last month.
Markit's composite purchasing managers' index (PMI) dipped to 53.6 in May from 53.9 in April. A figure above 50 indicates growth.
"The eurozone recovery lost some of the wind from its sails in May, with growth of output and new orders both slowing to three-month lows," said Chris Williamson, Markit's chief economist.