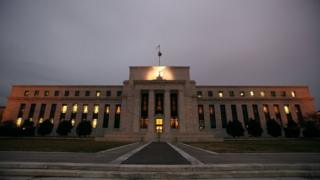 The Federal Reserve said it was "closely monitoring" global economic conditions, but would not raise interest rates in a decision widely expected by most analysts.
The central bank said US economic growth had slowed as exports fell because of the strengthening dollar.
Interest rates remain between 0.25% and 0.5% after being raised for the first time in nearly a decade in December.
The Fed issued a statement on Wednesday after a two-day meeting.
"The committee is closely monitoring global economic and financial developments and is assessing their implications for the labour market and inflation," it said.
The bank did not signal when it would next raise rates, but did say it expected the US labour market to remain strong and inflation to rise.
The US economy slowed late last year.
Unusually mild winter weather hit retail stores, causing holiday shopping sales to be worse than expected.
Oil prices have continued to fall this month, hitting 11-years lows under $30 a barrel amid concerns about slowing growth in China, which has battered global stock markets.
Mohamed El-Erian, chief economic adviser for Allianz, said: "The Fed statement signals that, in the frustrating absence of a US economic liftoff, it remains vulnerable to external economic developments and volatile financial markets."
US stock markets fell following the Fed's statement, with the S&P 500 falling 1.3% and the Dow Jones down 1.5%.
Oil prices did make some gains on Wednesday, however, with Brent crude reversing earlier falls to $32.40 a barrel, while US oil was up to $31.69.