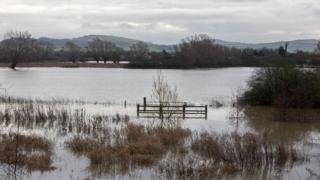 A plan to pay farmers in England for allowing their land to be flooded is to be considered, the government has said.
The National Farmers Union said it would support the plan, intended to protect towns and villages downstream.
Separately, experts have criticised a government decision to allow farmers to clear drainage ditches and streams without seeking permission beforehand.
The Centre for Ecology and Hydrology fears the policy change in England could raise flooding risks in towns.
Designated land
Currently, farmers receive money from the European Union's Common Agricultural Policy for keeping land in farmable condition.
Under the flooding farmland grant plans, farmers could be rewarded for designating land to be inundated in heavy rains to prevent excess water flooding property in towns downstream.
NFU deputy president Minette Batters said the flood scheme should be planned, rather than a form of ad hoc compensation.
This would reverse the normal situation in which farmers are urging the authorities to protect their land against flooding.
What have we done to make the flooding worse?
Environment Agency bosses defend flooding response
Flood defences will put people before wildlife – Environment Agency
Professor Alan Jenkins, of the Centre for Ecology and Hydrology (CEH), said he supported the scheme.
A theoretical experiment in Oxford, which experienced severe floods in 2007, found the peak river flow through the city would have been reduced by several feet if levees had been removed and fields along the river had been allowed to flood, he said.
"Getting farmers to allow their land to be flooded would need an incentive," he added.
New momentum
After flooding in 2014, environmental campaigners WWF urged the government to oblige farmers to catch flood waters as a condition of their grants.
The idea has been around for a long time, but it has new momentum after chairman of the Commons Environment Committee Neil Parish said on Wednesday that he favoured paying farmers to take flood water.
The government, which has some discretion over how EU farm grants are spent, said the plan would be considered as part of the government's review into flood policy.
The other plan – to allow farmers to clear ditches without asking for permission first – was welcomed by farmers who have complained that the Environment Agency has been micro-managing flood control.
The policy change was announced by environment minister Liz Truss at the Oxford Farming Conference.
"We will allow farmers across the country to maintain their own ditches up to 1.5km in length from April, so they can clear debris and manage the land," she said.
NFU president Meurig Raymond said his union had been pressing the government and the Environment Agency to let farmers "undertake minor works for many years".
Backfire?
But Prof Jenkins from the CEH said he feared the policy could backfire.
"Waterlogged fields are no use to farmers," he said.
"They can't maintain their productivity on waterlogged soil so it makes sense for them to manage their fields accordingly.
"There is a potential downside however, in that if we increase drainage in fields during heavy rainfall, it's possible there will be increased and faster transmission of water in the river system with a possible increase in flood risk downstream."
The CEH said its top ideas to prevent floods were catching water on farmland, improving flood defences and stopping the increase in CO2 emissions which fuels climate change.
A government spokesman said more than a million acres of prime farmland would be better protected through government investment in flood defences in the 10 years to 2021.
The flooding plan and the drainage decision apply to farms in England only but there is a broader discussion of these issues in the rest of the UK too.
What is natural flood management?
Natural flood management schemes rely on a combination of small-scale interventions with the aim of reducing the speed of the flow of converging water before it reaches larger rivers.
Features include small barriers in ditches and fields, or notches cut into embankments, all of which divert the water into open land.
Felled trees can also be laid across streams in wooded areas and help push unusually high waters into surrounding woodlands, although such schemes need very careful planning and management.
Follow Roger on Twitter @rharrabin and Facebook https://www.facebook.com/roger.harrabin