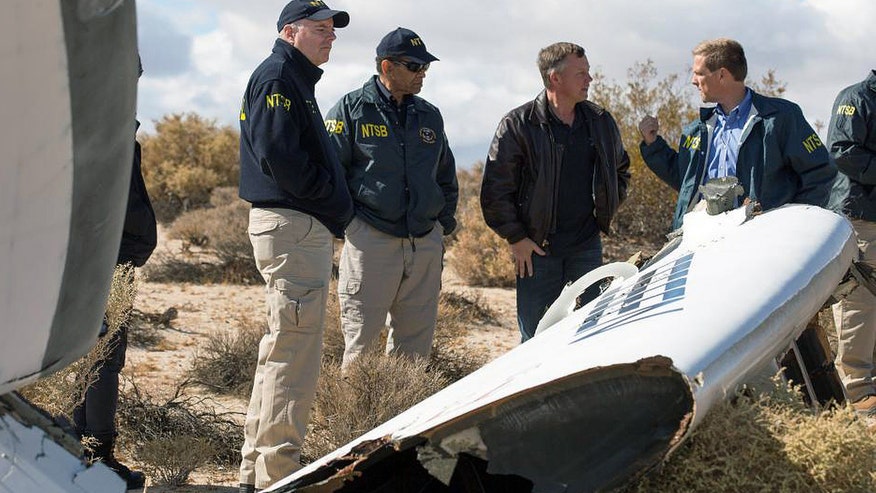 The crash of Virgin Galactic's SpaceShipTwo during a test flight over the Mojave desert last week will have a profound impact on the space tourism industry, according to space experts, thrusting safety firmly into the spotlight.
John Logsdon, professor emeritus of political science and international affairs at George Washington University's Space Policy Institute, told FoxNews.com that the crash will likely reshape the nascent market for space tourism.
"It's bound to be a setback for the industry for some period to come," he said, adding that consumers will be closely scrutinizing future tests of space tourism craft. "I think that there has to be a number of demonstration flights and test flights and possibly much, much, more government oversight."
Logsdon explained that, up to this point, there has only been light regulation of the private space tourism industry.
"The Federal Aviation Administration has some very rigorous standards that airline builders have to meet before they are certified to carry passengers – there's nothing like that for the space tourism industry," he said.  
Andrea Gini, chairman of the Information and Communication Committee of the International Association for Advancement in Space Safety (IAASS) also expects a renewed focus on safety.
"I believe that this accident will change the general approach of the industry to safety," he explained, in an email. "The industry must establish some standards along with other stakeholders (including governmental organizations like FAA and the International Civil Aviation Organization) and make sure that they are followed."
Gini, who is also editor-in-chief of Space Safety Magazine, told FoxNews.com that best practices should be shared right across the space tourism industry.
"The IAASS has proposed that commercial players should follow the path of self-regulation, by forming an independent organization that could certify new design and new approaches to make sure that they follow the industry's best practices," he said. "This is the approach that has been established in Formula 1 car racing, and in the past 20 years has worked really well for them.
Friday's crash, which is being investigated by the National Transportation Safety Board, killed SpaceShipTwo co-pilot Michael Alsbury and left pilot Peter Siebold seriously injured.
On Friday, the Mojave Air and Space Port, where the test took place, confirmed that an "inflight anomaly" occurred about two minutes after SpaceShipTwo was released from WhiteKnightTwo, the 'mothership' plane that carries it to a high altitude.
Late on Sunday the NTSB said that the space plane broke apart just after its "feathering" re-entry system deployed. The system uses twin rudders to increase drag on the space plane during its return to earth. However, NTSB Acting Chairman Christopher Hart said that investigators are still a long way from finding the cause of the crash, adding that it could take months of investigation.
Friday's flight marked the 55th for the spaceship, which was intended to be the first of a line of craft that would open space to paying civilians. At 60 feet long, SpaceShipTwo features two large windows for each of up to six passengers, one on the side and one overhead.
Virgin Galactic – owned by Branson's Virgin Group and Aabar Investments PJS of Abu Dhabi – sells seats on each prospective journey for $250,000, with full payment due at the time of booking. The company, which had been planning to take its first paying customers to space around 2015, reports taking deposits totaling more than $80 million from about 700 people.
With no details available about what caused the crash, Logsdon was unwilling to predict when space tourism will shake off the SpaceShipTwo incident.
"We don't know what caused this – whether it was a fundamental design flaw or something that happened on a particular flight," he said. "Until we know that, it's premature to say how long the setback will be."
In a press conference on Saturday Virgin Galactic founder Richard Branson vowed to persevere with the ambitious space tourism program.
"Once we have found out what went wrong, if we can overcome it, we will make absolutely certain that the dream lives on," he said. "We would love to finish what we started some years ago."
"In the early days of aviation, there were accidents, and then aviation became very safe," he added.
However, Chris Carberry, executive director of Explore Mars, a non-profit organization which aims to advance the goal of sending humans to Mars within the next two decades, told FoxNews.com that the coming months will not be easy for Branson's space tourism venture.  
"Virgin Galactic will have a challenging time ahead to determine what went wrong and get successfully back to flight," he said. 
Nonetheless, Carberry is confident that commercial spaceflight will play a part in America's future. "As a nation, we can't back down from challenges like this," he told FoxNews.com. "When the day comes that we lose the nerve to engage in endeavors like this, that will be the day we know that we are in decline as a nation.  ​I don't think that day has come."
Last week was certainly a tough one for the U.S. space industry. Friday's crash came just four days after an unmanned U.S. rocket to the International Space Station exploded shortly after liftoff from Wallops Island, Va.
Built by Dulles, Va.-based Orbital Sciences as part of a $1.9 billion contract with NASA, the Antares rocket exploded in a fireball just 6 seconds after liftoff.
Although the incidents have thrust private spaceflight into the spotlight, Logsdon told FoxNews.com that the two launches should be viewed separately.
"They were fundamentally different types of undertaking," he said, noting that Wallops Island was a government launch of a privately-built rocket with a lot of government oversight. "In contrast, the Virgin Galactic launch was a totally private undertaking," he added.
Follow James Rogers on Twitter @jamesjrogers
The Associated Press contributed to this report.