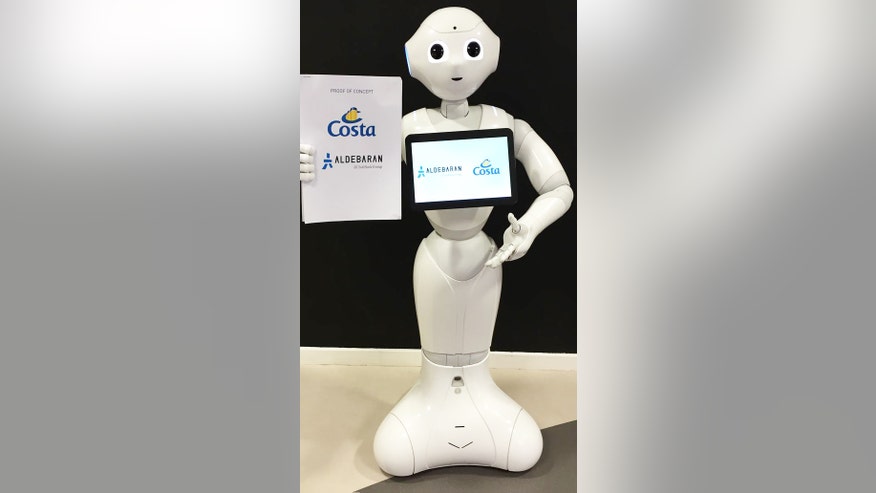 The high seas are increasingly going high tech.
European travel company Costa Cruises will debut a fleet of robots named Pepper to greet cruisers, assist passengers with the embarkation process and help them navigate ships' restaurant and entertainment options.
Pepper was first launched in June 2014 in Japan by SoftBank and Aldebaran. It is the world's first robot capable of recognizing major human emotions and has the ability to respond accurately in real time to people as well as proactively navigate its surrounding environment.
"With an emotional robot on board our cruise ships we are once again continuing our tradition of innovation. For us, this is an important step towards a digital future for our brands. I am confident that our guests will love Pepper," said Michael Thamm, CEO of the Costa Group, reports Tornos News.
Pepper, which stands just under four feet tall, analyzes expressions as well as voice tones using the latest technology in human voice and emotional recognition software. The robot comes equipped with 3-D camera for detecting people and their movements and a 10-inch touch screen to display information.
The latest fleet has been programmed to understand English, German and Italian.
Unlike the robotic bartenders aboard Royal Caribbean's Anthem of the Seas, Pepper is self-propelled with the ability to actually talk back to humans.
This summer, a home version of the robot retailing for about $1,600 sold out in Japan in just a minute, according to CNN. SoftBank says it will be making more soon.
Pepper robots will make their debut onboard the Costa branded AIDAprima and Costa Diadema ships in spring of next year, with a full fleet rollout expected by the end of the summer.
See Pepper in action in the clip below: