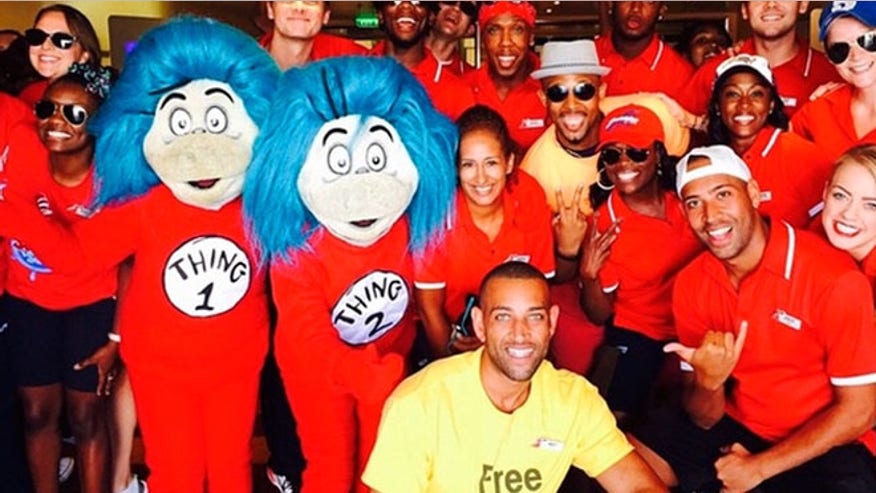 It's hard to imagine that the level of fun you have on a 130,000-ton ship can literally hinge on one person, but if you've taken just one ocean cruise, you know the cruise director can transform a good vacation into an epic memory.
And in all my years of cruising, I've never come across a better example of that than Matt Mitcham, the cruise director for the Carnival Breeze.
The England native is what baseball scouts call the five-tool prospect – handsome, personable, funny, versatile and immensely talented.
From the moment you board the Breeze and get your first greeting from Mitcham over the loud speakers, the mood is set for fun.
Mitcham proved to be self-deprecating, a great observer of people and a masterful improviser on stage, from the "Welcome Aboard" show to the kid-themed "Hasbro the Game Show" to the very adult-only "Love and Marriage Show."
He's the type of guy you want in the middle of your party, whether he's teaching you the Uptown Funk line dance or enjoying a few beers while rooting on his beloved Birmingham FC soccer team with his mates.
Everywhere you see Matt aboard, he's always smiling, and usually being cornered for selfies by the female cruisers. And he ended every cruisewide address with his signature "Bye! I said bye!"
Never was his charisma more on more display than during his "Q & Awesome" session on the last sea day of our eight-day Caribbean cruise. Mitcham sat on the Ovation Theater stage adorned in his favorite "Free Hugs" t-shirt and took question for 50 minutes (in what was supposed to be a 30-minute event).
He ducked nothing, answered a wide swath of inquiries and in the process, gave quite a bit of insight into what cruise life is all about, including announcing that he's been tapped to be the cruise director for the Carnival Vista, the cruise line's newest ship that comes online in 2016.
Here's a sampling from the Q&A (all questions from Breeze passengers):
Can staff date passengers?
"Very strict rule, no, no, no. It's something I personally would never venture into, but I've seen attractions happen. Once you're not our guest anymore, I imagine anything goes. So once you're across the gangway, some romance may have blossomed. I have no direct knowledge."
What's the typical amount of time you're on a ship?
"It's typically four months, but I've done a contract for as long as 11 months. That was definitely pushing. We have some down time in there. I'll have conferences I have to go to at the corporate office and such. But yes, it's our home for long stretches."
Where's your favorite hideout spots on the ship, to get away from the crowds?
"Well, if I told you that, they wouldn't be hideouts, would they? (laughs) No, I have my spots but when I'm working, I'm buzzing around the ship, constantly moving from activity to activity."
How does the crew get mail on the ship?
"Well, I'll have folks send mail to home ports and grab it during disembarkations. But mail is definitely a slow process. Communicating with the outside world is a must. I can't imagine how folks did it before laptops and Internet access and e-mail."
What about everyday conveniences? Where do you shop?
"A large amount of shopping is done through Amazon. We have a special deal with them, so check out any disembarkation and you might see 400 packages waiting for crew. It's like Christmas for so many of us."
Where did you get those green eyes?
"From my granddad."
Can crew date other crew?
"You definitely see some romances. It's inevitable spending that much time together, but I've learned to try to separate business from pleasure as much as possible. But especially when our business is having fun, relationships happen. I dated a crew member for a while, but she dumped me, broke my heart." (sympathetic sighs from the crowd)
How did you get into this line of work?
"I just knew it was something I wanted to give a go. I applied to many different lines and Carnival is the only one who replied. I'm glad they did. They have been amazing to work for.
How do you see your family during the long contracts?
"That's tough. I definitely miss my mum and my brother and the family. Carnival has a great program for family members where they can cruise for $7 per day. My mum is coming on a cruise shortly in mid-August. I can't wait."
What's your favorite ship?
"Well, I love the Breeze, of course. But I also love the smaller ships, like the Ecstasy. I'm running around this ship and with so many passengers, I may see you once or twice. On a smaller ship with fewer passengers, you get to know people a little bit more. I also loved the Fantasy out of Charleston, South Carolina. What a great town."
Where do the crew sleep?
"We have a whole world in the bowels of the ship. Food and beverage crew are on decks A, B and Zero, and two people to a cabin with a shared bathroom down each hallway. Entertainment staff sleep two to a cabin but get a private bathroom. I am actually on Deck 5 with the other officers of the ship, like the captain. I have a nice size cabin, with a separate bedroom, office space and bathroom. It's quite nice, but I've worked my butt off to earn it."
What's your favorite itinerary?
"I've definitely enjoyed the Caribbean, I won't lie. It's my vibe. I was on the Glory a while back and it ran from Boston to Portland to Nova Scotia. It was more lighthouses and lobsters. If that's your thing, it's a great cruise."
Do you ever get in trouble?
"Well, we do have a jail on the ship. I have managed to avoid that, thankfully. But yes, I've been written up before. I once ran from one end of the Promenade deck to the other wearing a life jacket. Guest Services got quite a few calls there. I thought it was funny, but others, not really. Definitely a learning experience."
Do people get locked up in the jail?
"Oh yes, for sure. It takes a lot to get locked up, but there have been plenty of times it's happened where people are causing bodily harm or just putting other passengers in danger. People can get sent home, they can be arrested once we get back. It happens plenty."
Have you ever had criminals on board?
"Absolutely. We may not know it. What the criminals don't know is they are run through a database as they board by the different port authorities. They may get on the ship, but there have been plenty of times when law enforcement is there to greet them at the gangway when we get back."
What do you do in your free time?
"There isn't much of it, but when I get it, I sleep a lot, recharge the battery. I watch "SportsCenter" or my Birmingham matches. I also like to get lost in a good Maury Povich episode. And I'll people watch. I love people watching and this is quite the place for that. Always plenty to learn."
You have a lot of talent and personality. Did you ever consider trying Hollywood?
"You know, I really didn't. Never say never, I guess, but that life just didn't appeal to me. The level of entertainment just continues to rise in the cruise industry, so I love the challenges this job presents me. Plus, no bills and no living expenses and getting to work with amazing people. It's hard to match."
Have you met celebrities on board?
"I did a Tom Joyner charter cruise. If you ever have the chance to see Tom, please do it. He's amazing. I've also met folks like LL Cool J, R. Kelly, Doug E. Fresh and Jennifer Hudson. I was so nervous with Jennifer. She's just so beautiful and talented."
What's your favorite vacation?
"Thailand, for sure. Amazing people, incredible scenery and you can do so much for so little money."
Do you have a favorite crew member?
"Well, it wouldn't be fair to single anyone out because they are all so incredible. But I will say, I absolutely adore and respect folks from the Philippines and Indonesia. They have an amazing work ethic and they're such calm, fun-loving folks. You know, I might have a hard time picking up your underwear off the floor if I was steward. They won't just pick it up, they'll make a towel animal out of it." (Laughs aplenty)
What happens if you get sick?
"There's a medical center on board, but I just don't get sick. I'm very fortunate. And when I do, I just plow through it. Even when I'm in a bad mood, all the folks having fun, it just turns it around quick. Hard to be down when you have folks around you smiling and having fun. It brings me out of the doldrums real quick."
Do you ever eat off the ship?
"Oh yes, I try to take advantage of every port of call whenever possible. The food is amazing on the ship, you all know that. But after eight days, you might be ready for something else. So yes, I need some variety for sure. I love Indian food."
More from TravelPulse:
A Dad Defends #ChildFreeFlights
NYC Heli Tour Takes Shoe Selfies To Another Level
Hate Waiting in Ride Lines? Rent the Whole Theme Park!
How A Boutique Hotel is Revolutionizing Free Wi-Fi