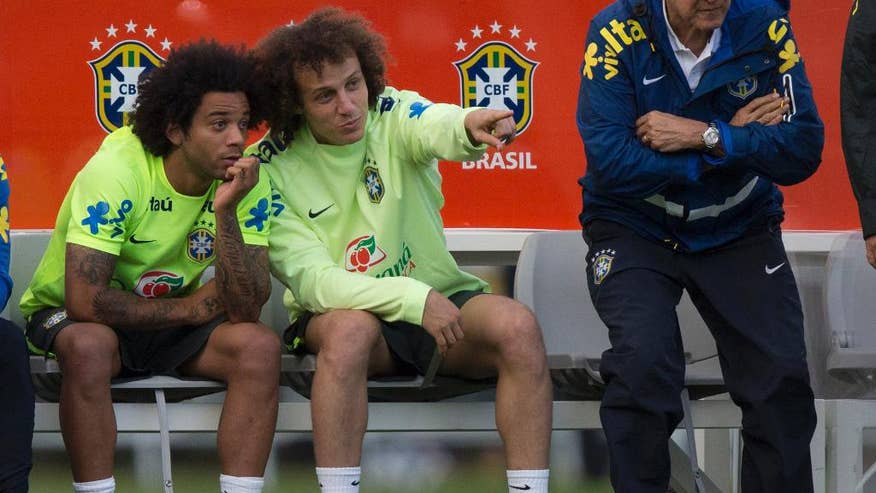 BELO HORIZONTE, Brazil –  Because it is turning out better than expected, the World Cup is doing more good than harm to brand Brazil. The opposite is true for Brazil's brand of football.
The national team's grinding route to Tuesday's semifinal against Germany, its play pockmarked with fouls, gamesmanship and win-at-all-costs realpolitik, has driven a stake through the myth of Brazilian football as art and through the hearts of us fools who nurtured and clung to it.
I can't have been the only one before this World Cup who dusted off precious memories of falling under the spell of Brazil's yellow-shirted Selecao. Too young for the era of Pele, Brazilians who bewitched me were Zico and the teams of 1978 and 1982.
Nelinho's thunderbolt in the match for third place against Italy in 1978, arcing off his right foot across the penalty area and bending majestically beyond Italy goalkeeper and captain Dino Zoff. Falcao against the Soviet Union in 1982, letting a pass from Paulo Isidoro run between his legs to Eder, who flicked the ball up and volleyed it in.
Eder celebrated by doing a forward roll. This wasn't just football, it was narcotic. Those teams didn't win the World Cup. But for those of us who weren't Brazilian, that didn't matter. We were hooked.
Even when Brazil reined in the beauty to win in 1994 and 2002, it still did enough to enchant. Bebeto's rock-a-bye-baby goal celebration against the Netherlands helped wash down the bile of Brazil drawing 0-0 with Italy in the final and needing a penalty shoot-out to secure its fourth World Cup.
The story of Ronaldo's resurrection, his eight goals with surgically repaired knee ligaments, put glitter on Brazil's fifth World Cup win in 2002. But South Korea won the FIFA award as the most entertaining team at that tournament it co-hosted with Japan.
Naively in hindsight, because of its glorious past, I tricked myself into believing this time that Brazil might want to shine on home soil, that its fine players would want to live up to the standards of predecessors who put the five stars — one for each World Cup win — on the shirts they now wear.
This, the marketers assured us, would be the Copa das Copas — the cup to beat all World Cups, a return after 64 years to the country that took a game born in England and elevated it to a higher plane. You can be sure that fans hummed Gilberto Gil tunes to themselves on flights over here, heads full of dreamy expectations and flashbacks of Socrates and other futebol sorcerers with one name and two magical feet.
And there has been fabulous football, but only smatterings of it from Brazil, mostly from Neymar, the team's principal entertainer now out with a broken back.
The pre-game soundtrack played in stadiums to whip up the crowds includes "Thunderstruck" by hard-rock band AC/DC, appropriate for the muscular, functional football Brazil played in the group stages and to knock out Chile and then Colombia to advance to the semifinal against Germany, a team easier on the eye.
Brazil has been a scrappy team, committing more fouls — 96 so far — than any other and collecting 10 yellow cards, again the most with Costa Rica. Against Colombia, Brazil's players ganged up on James Rodriguez, taking turns to foul the 22-year-old because he was central to that team's electric attacks and scored half of its tournament-leading 12 goals.
David Luiz's goal against Colombia, arching over the wall and back down past David Ospina, was a gem, as spell-binding as Zico's free-kick against Scotland in 1982.
Neymar also scored a pretty good goal against Croatia, although the toe-poke from his teammate Oscar at the end of that opening match to make the score 3-1 for Brazil was probably better. Oscar's run, however, started with Ramires charging into Ivan Rakitic, clattering him off the ball and to ground, which the referee chose to ignore.
Neymar also scored a couple for the highlight reel against Cameroon.
But other Brazilian goals were unspectacular. Thiago Silva used his knee to bundle in against Colombia. Luiz barely touched the goal FIFA credited to him against Chile. Striker Fred isn't even a pale imitation of Ronaldo, Romario and other illustrious Brazilian goal-getters of the past. Fred's only goal was a header against Cameroon. He hoodwinked the referee into awarding a penalty against Croatia by tumbling over like Bambi on ice.
Brazil has simply become like many other teams in doing these things.
In winning ugly, rather than losing beautifully, Brazil is merely marching to modern football's tune that victory is all that matters. Coach Luiz Felipe Scolari and his players have 200 million Brazilians breathing down their necks, expecting deliverance. So the players can perhaps be forgiven for doing whatever it takes to get that weight off their back.
"What's remembered in the history of football is the victory," Zico said on the eve of Tuesday's semifinal. "Our team in 1982 scored goals because we played beautifully but didn't win, so we're not part of history."
Maybe not, but that team lives on fans' hearts.
If it doesn't win, this Brazil team won't do that.
___
John Leicester is an international sports columnist for The Associated Press. Write to him at jleicester@ap.org or follow him at http://twitter.com/johnleicester