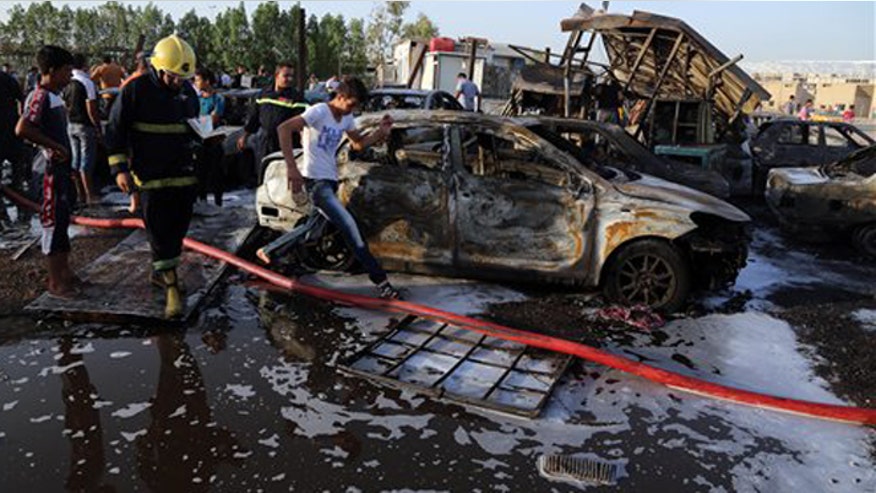 BAGHDAD –  A car bomb at a popular auto dealership Saturday killed 13 people and injured 52 in eastern Baghdad's volatile Sadr City neighborhood, where a market bombing two days earlier killed dozens, police said.
The Habibiya car dealership, widely-known for buying and selling used vehicles, has been targeted multiple times in the past. The Islamic State group claimed responsibility for the bombing in a communique distributed via affiliated Twitter accounts, saying the vehicle targeted a large gathering of the Iraqi army, federal police and government-backed Popular Mobilization Forces.
A massive explosion in a Sadr City market on Thursday killed at least 67 people and wounded more than 100. The bombing, claimed by the Islamic State group, was one of the worst single-day attacks in Baghdad in a decade.
Elsewhere in and around the capital, a series of bombings killed at least nine people and wounded 33.
The largest took place in the town of Madain, just south of Baghdad, when a bomb tore through a popular market killing three people and wounding 10, police said.
In the town of Taji, north of Baghdad, a bomb hit a row of auto repair shops, killing two people and injuring eight.
In Baghdad's al-Askan district, an improvised explosive device detonated on a busy commercial street, killing at least two people and wounding eight. And in Baghdad's southeastern suburb of Jisr Diyala, police said two were killed and seven wounded when a bomb exploded on a commercial street.
Hospital officials corroborated the casualties. Officials spoke on condition of anonymity because they were not authorized to talk to reporters.