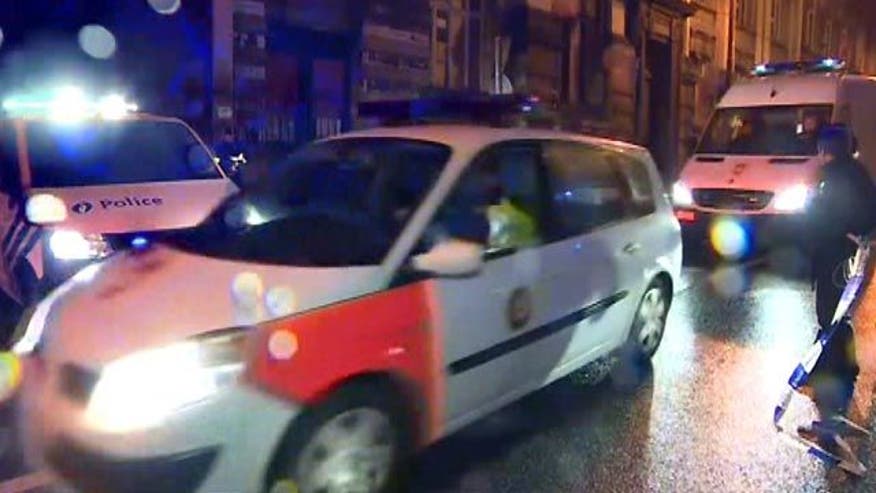 The two terror suspects killed in a Belgium raid Thursday had police uniforms at their hideout, along with a cache of assault rifles, knives and explosives, Sky News reported.
The raid in Verviers, in which a third suspect was arrested, was one of 10 across the country that authorities say preempted an imminent terror attack against police targets, at a time when Europe is on edge following the Charlie Hebdo massacre in France. 
Fake IDs were found among the weapons cache, which included AK-47s.
Sky News also reported that more than 25 people were being held in Belgium, France and Germany amid fears of another terror attack. In Belgium alone, 13 people were in custody, five of whom were later charged with "participating in the activities of a terrorist group."
Belgian federal magistrate Eric Van der Sypt said the terrorists' goal was to kill police on the street or in their offices.
The magistrate added that some of the terror suspects had recently returned from Syria, where they had been training and fighting with the Islamic State group, also known as ISIS, or ISIL.
Also on Friday, President Obama met with British Prime Minister David Cameron at the White House in their first meeting since the Charlie Hebdo attacks and their aftermath claimed the lives of 17 victims last week. Obama argued that a resurgent fear of terrorism across Europe and the United States should not lead countries to overreact and shed privacy protections, even as Cameron pressed for more government access to encrypted communications used by U.S. companies.
In the wake of last week's attacks, Cameron has redoubled efforts to get more access to online information, while the French government plans to present new anti-terrorism measures next week that would allow for more phone-tapping and other surveillance.
"As technology develops, as the world moves on, we should try to avoid the safe havens that could otherwise be created for terrorists to talk to each other," Cameron said in a joint news conference with Obama.
The Associated Press contributed to this report.