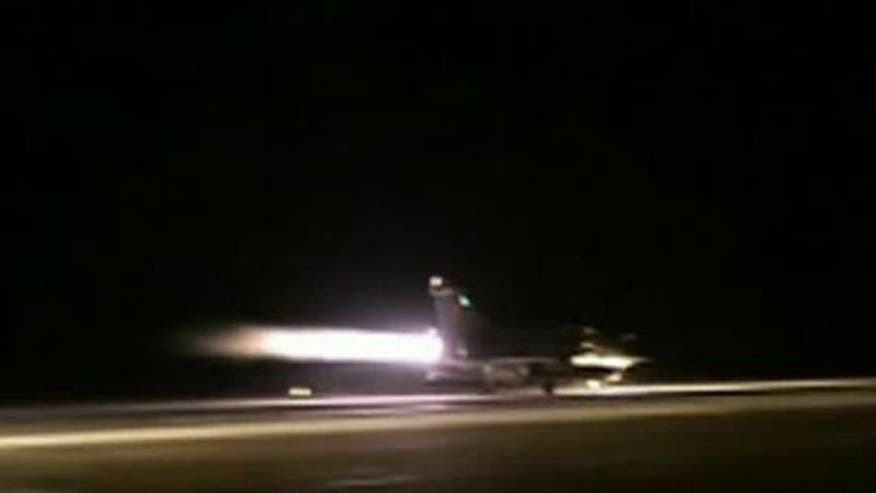 French jets struck the heart of ISIS-controlled territory on Sunday in the first direct retaliation for Friday's deadly terror attacks that killed 129 in Paris.
French fighter jets dropped 20 bombs on a command and control center, a jihadi recruitment center, munitions depot and ISIS training camp in the Syrian city of Raqqa, AP and Reuters reported, citing a statement from the French Defense Ministry.
The "massive" raid was launched from the United Arab Emirates and Jordan and was carried out in coordination with U.S. forces.
A Pentagon source told Fox News, "these were French strikes but they were conducted within the coalition. We helped with target list."
Raqqa is the de facto capital of the Islamic State's "caliphate."
The French strikes come the same day the U.S. delivered an ammunition shipment by land to Syrian-Arab coalition forces in Syria, an American official told Reuters.
The U.S. has conducted the vast majority of coalition attacks on ISIS territory up to this point, and has been almost solely responsible for all coalition bombings of ISIS inside Syria. 
The personal nature of Friday's attacks, which devastated France and shocked the world, changed the calculus. The official casualty toll stood at 129 dead and 352 wounded after the heinous, coordinated attacks at various public locations in and around Paris.
French President Francois Hollande called Friday's Islamist spree an "act of war" during a nationally televised address. Hollande vowed France "will be merciless toward the barbarians of Islamic State group."
The first opportunity for payback came Sunday in an effort that included 12 aircraft, 10 of which were French fighter jets.
ISIS, in an online statement, described Paris as "the carrier of the banner of the Cross in Europe" and described the attackers as "eight brothers wrapped in explosive belts and armed with machine rifles."
Fox News' Jennifer Griffin and the Associated Press contributed to this report.