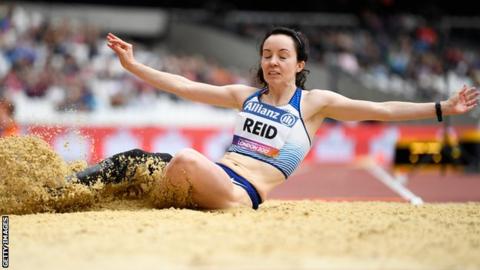 Stef Reid won Great Britain's second gold medal at the World Para-athletics Championships in London with victory in the T44 long jump.
The double Paralympic silver medallist, 32, jumped 5.40m in the event for athletes with a single leg amputation below the knee.
The Netherlands' Marlene van Gansewinkel took silver with 5.29m and Japan's Maya Nakanishi bronze with 5m.
Hannah Cockroft won GB's first gold in the T34 100m on Friday.
Britain have won four medals at London Stadium, with plenty of opportunities to add to that total in Saturday evening's session.
Reid, who lost her right foot in a boating accident as a teenager, won silver at the London 2012 and Rio 2016 Paralympics.
"It's so satisfying. It's been a long time coming," she told BBC Radio 5 live.
British sprinter Zachary Shaw failed to qualify from his T12 100m semi-final, for athletes with visual impairment.
Sprinters star
It was a morning to see some of the best international sprinting talent, with Brazil's Paralympic champion Petrucio Ferreira setting a championship record in the heats of the T47 100m, for athletes with amputations below the elbow or wrist.
He will be joined in Saturday night's final by compatriot Yohansson Nascimento, the 2011 champion, and Poland's defending world champion Michal Derus.
America's David Brown, the first totally visually impaired sprinter to run 100m in under 11 seconds, breezed through his heat to reach Saturday night's T11 100m final.
Niamh McCarthy won the Republic of Ireland's first medal, matching her silver from Rio 2016 in the F41 discus, for athletes with short stature.
Super Saturday for Britain?
Britain could win several medals in Saturday's evening session.
Jo Butterfield, a day after finishing fourth in the club throw, competes in the F52 discus (19:18 BST), for athletes with spinal cord injuries and minimal or no leg function.
Hollie Arnold looks for a third world title in the F46 javelin (19:57 BST), for athletes with a single arm amputation above or below the elbow.
Richard Whitehead is aiming for a fourth world gold with victory in the T42 200m (20:29 BST), for athletes with single above knee amputations or similar. Rio bronze medallist David Henson joins him in that event.
Toby Gold, Andrew Small and Daniel Bramall are medal contenders in the T33 100m (20:38 BST), for athletes with cerebral palsy who use a wheelchair.
Sophie Hahn in the T38 200m, for athletes with cerebral palsy (21:05 BST), and world record holder Sammi Kinghorn in the T53 200m, for wheelchair athletes with limited or no lower limb function (21:41 BST), are also in action.