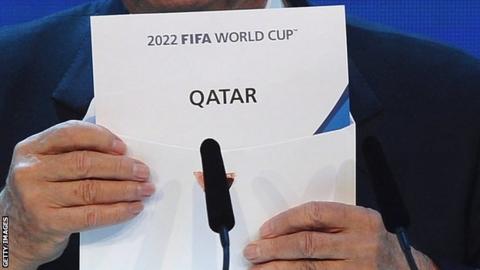 Football's world governing body Fifa has released its full report into alleged corruption in Qatar's successful 2022 World Cup bid.
It comes after German newspaper Bild published extracts of a leaked copy of the report on Tuesday.
The 2014 report was authored by former Fifa independent ethics investigator Michael Garcia.
He quit in protest when the organisation only released a 42-page summary of his document.
That version cleared Qatar of corruption allegations.
Fifa said its president Gianni Infantino had always intended to release the full document, which has more than 400 pages, but its former ethics chiefs had refused to publish it.
The former chairmen of the ethics committee, Cornel Borbely and Hans-Joachim Eckert, were replaced in May after completing four-year terms.
Speaking in October 2014, Eckert said: "Publishing the report in full would actually put the Fifa ethics committee and Fifa itself in a very difficult situation legally."
Fifa said it had intended to discuss the release of the report at a meeting next month, but added: "As the document has been illegally leaked to a German newspaper, the new chairpersons have requested the immediate publication of the full report in order to avoid the dissemination of any misleading information.
"For the sake of transparency, Fifa welcomes the news that this report has now been finally published."
Why was the investigation started?
Garcia was appointed as Fifa's independent ethics investigator in 2012 and asked to look into the 2018 and 2022 World Cup bidding process following claims of corruption around the bids.
They included allegations that disgraced Qatari football official Mohamed Bin Hammam made payments totalling $5m (£3m) to football officials in return for their support for the Qatar bid.
Qatar vehemently denied votes were being bought and said Bin Hammam had not been acting in an official capacity.
Garcia spent two years investigating the claims and looked into all nine hosting bids – including one by the England Football Association.
Russia won the right to host the 2018 World Cup, beating off England as well as joint bids by the Netherlands/Belgium and Spain/Portugal.
Qatar won the 2022 bid when it faced competition from Australia, Japan, South Korea and the United States.
More to follow