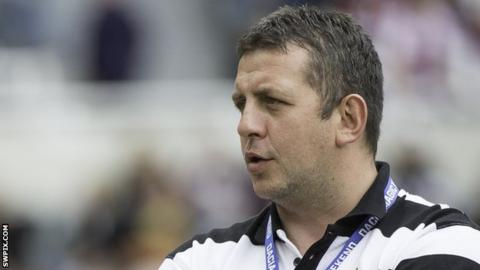 Leigh Centurions coach Neil Jukes says the Million Pound Game should be scrapped after his side were relegated from Super League.
Centurions' one-season stay in Super League was ended after they were defeated 26-10 by Catalans Dragons.
"We dominated the Championship and won all the cups so we could tick the boxes and get into Super League," Jukes told BBC Radio Manchester
"But then they changed that format and went to this one."
When asked if the Million Pound game should be scrapped, Jukes replied: "100%. And I would have said that before we were promoted as well.
"If you're a good enough club with the fanbase and facilities and you add to Super League, good."
Forward Jamie Acton, 25, signed a new four-year deal to remain with the club after Saturday's game, but Leigh may have difficulty keeping some players who are signed to Super League contracts and will be free to leave because of the club's relegation.
"It's a tough time, the vultures will be out, I know a lot of our players are being offered out as well. There's people we may want to keep who don't want to stay," Jukes said.
"There were warriors in the dressing room who were basically moved to tears. With the uncertainty around the game, people's jobs were on the line.
"In an era where people talk about mental health, that and depression has a lot to do with job security and finances so we need to be careful on what we preach and what we deliver."