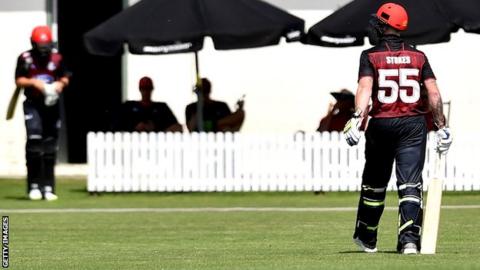 Ben Stokes was bowled for two on his debut for New Zealand side Canterbury Kings in a 50-over match with Otago.
The England all-rounder, facing his seventh ball, was bowled out by left-arm spinner Anaru Kitchen on Sunday.
The 26-year-old signed for Canterbury on Friday.
The England and Wales Cricket Board says Stokes cannot play for England as he waits to hear if he will be charged after an incident outside a Bristol nightclub in September.
However, he is not barred from playing domestic cricket in any country and signed for Canterbury after travelling to New Zealand to visit his family.
Ahead of his Kings debut, Stokes spoke of how his first training session had gone.
"It was nice to know a few faces – a few of the young guys came over to Durham as part of an exchange programme. It was nice, because it can be hard coming to a new team."
Stokes was arrested on suspicion of causing actual bodily harm after an incident on 25 September in which a man suffered a fractured eye socket.
He was released under investigation before Avon and Somerset Police announced on 29 November that it had completed its investigation and sent the findings to the Crown Prosecution Service (CPS) to decide if Stokes would be charged.
That will not be taken for several weeks, so he seems unlikely to play in the ongoing Ashes series against Australia.