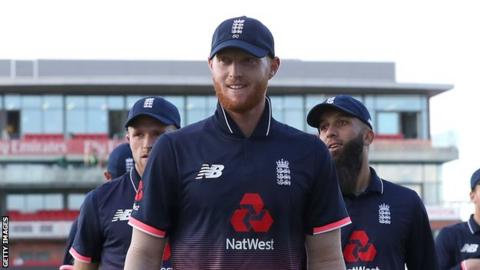 Former England captain Michael Vaughan has warned Ben Stokes he needs to change his lifestyle after the England all-rounder was arrested following an incident outside a Bristol nightclub in the early hours of Monday morning.
The 26-year-old was held overnight by police on suspicion of causing actual bodily harm.
Test Match Special pundit Vaughan, writing in his Daily Telegraph column, said England's Test vice-captain needs to find alternative ways of letting off steam and must become as "streetwise" off the pitch as he is on it.
"Ben Stokes can't say he was not warned," said Vaughan.
"I have been privy to private conversations about him recently and he has been given strong warnings about his lifestyle.
"People have said to him there is only one person who can ruin your career and that is you. Nobody else."
Stokes is likely to be named in England's squad for the Ashes tour of Australia on Wednesday.
He became the Indian Premier League's most expensive foreign player when Rising Pune Supergiant bought him for £1.7m in February.
"He has the talent, plays all three formats relatively easily, and has the world at his feet," added Vaughan.
"In time we could be describing him as a cricketing genius. But he has to understand that if he wants to be a superstar, and go over to India, earn huge IPL contracts and keep them, he has to be careful off the field.
"I am not saying be teetotal or not have a flutter at the casino. He needs a way to let off steam and live a life.
"But on the field he is a streetwise cricketer. He understands the game. He gets cricket. But he is not streetwise off the pitch and that could be his downfall. I am hoping this is his lesson."
Stokes was sent home from an England Lions tour for late-night drinking in 2013, while in 2014 he missed the World T20 after breaking his hand when punching a dressing-room locker in frustration at a poor run of form.
The recent incident occurred at about 02:35 BST at Bristol's Mbargo club which left another man needing hospital treatment for facial injuries.
Stokes will not be available for England's fourth one-day international against West Indies on Wednesday, the England and Wales Cricket Board has announced.
Team-mate Alex Hales, who was with Stokes on Monday, will also miss the match and has returned to Bristol to help police.