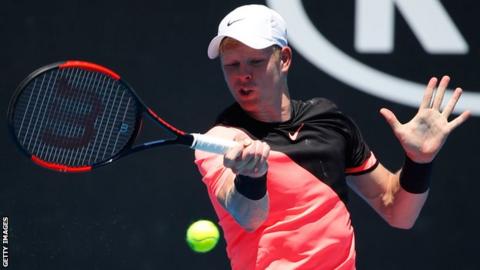 Kyle Edmund will hope to show more evidence of a "killer instinct" when he takes on Italian Andreas Seppi at the Australian Open on Sunday.
The pair meet not before 05:00 GMT, with a first Grand Slam quarter-final place up for grabs for both men.
Seppi, 33, might feel that facing the world number 49 offers his best chance to date, but 23-year-old Edmund is a growing force in the Grand Slams.
Ranked 49th and yet to reach an ATP final, the British number two has some way to go, but his performances in Australia this year suggest an accelerated improvement.
Beating 11th seed Kevin Anderson – the US Open finalist only four months ago – on the opening day in Melbourne was his best win in terms of rankings, a real breakthrough.
A natural introvert, at least to the outside world, there are signs that Edmund's powerful game is finally being reflected in a bolder on-court attitude.
"The killer instinct that he is starting to develop is a confidence thing," Davis Cup captain Leon Smith said.
"It is belief that you belong at the very top, and winning helps that.
"What he is doing now, and especially the win against Kevin Anderson, is making him believe he really does belong at a higher ranking than where he is at now."
'Passionate' Rosengren joins coaching team
Edmund might not have made a spectacular teenage breakthrough – few players do these days – but he has risen impressively up the rankings since being marked out as the best of a crop of young British talent at the start of the decade.
There are only four younger players above him in the rankings, but 2017 still felt like a year of missed opportunities.
His ranking slipped from 45th to 50th and potentially landmark wins over Rafael Nadal, Stan Wawrinka and Milos Raonic all drifted away in final sets.
Changes have been made on and off the court, with new management, a new kit deal with Nike, a new base in the Bahamas and a new coaching set-up.
Briton Mark Hilton, who helped Dan Evans into the top 50, and Swede Fredrik Rosengren, who guided Jonas Bjorkman, Robin Soderling and Magnus Norman into the top five, now share coaching duties.
Rosengren, 57, is an animated character and has been urging on his charge from courtside in Melbourne.
"It's just his character," Edmund said.
"We all know that's just how he is. He's very passionate, just loves sport and competing.
"It's obviously good when you look across and your coach is right there with you. It helps you a lot, in my opinion."
Improved return brings confidence
The plan in the off-season was to turn those near-misses into wins by improving the serve, making more effective returns, discussing the mindset in tight matches and working harder than ever physically.
"Everything basically," Edmund said. "It's a constant process."
Former Wimbledon and US Open champion Lleyton Hewitt's new academy in the Bahamas, where Edmund now lives, was the venue for a punishing schedule of endurance sessions, weight training and on-court work.
Edmund's forehand has always been a major weapon – asked about it after facing Edmund for the first time in Miami two years ago, Novak Djokovic just raised his eyebrows and whistled.
But for such a powerful player, standing 6ft 2in tall, his serve has lacked the punch of the very biggest hitters.
"We focused on my serve quite a bit in the off-season," Edmund said. "I always found that I wasn't getting enough cheap points on my serve."
In a sport where a 1% shift in statistics can lead to significant changes in outcome, Edmund's first-serve percentage in Melbourne is up six percentage points (64%) on 2017 and, crucially, the points won behind it are up four percentage points (78%).
When returning, Edmund has won 57% of the points on his opponent's second serve in Melbourne, compared to a 2017 average of 52%.
Rather than going for broke on the first shot he has put 66% of his returns back in court, giving himself the chance to build the point.
There was no better test of his returning skills than facing the 6ft 8in Anderson in round one.
"His serve and forehand is really firing on all cylinders," Smith said.
"The big improvement in the off-season is the returns. He is getting a lot more balls in play.
"Down in the fifth set, he managed to break Kevin Anderson twice, and not many do that.
"It is a big step for him and you could see the confidence oozing out of him afterwards."
British number one spot in sight
The manner of Edmund's five-set win over Nikoloz Basilashvili in round three, which lasted three and a half hours in 40C heat, prompted Andy Murray to describe it as Edmund's best performance to date.
"It's definitely up there, for sure," Edmund agreed. "I think the fact that I was down and came through a lot of tough moments in the match is really good for me.
"I showed good character to come through that."
The influence of Murray on his compatriot has been far more than that of a distant inspiration – the Scot has taken a hands-on approach to mentoring the Yorkshireman since his teenage years.
Edmund has been invited to Murray's famously brutal training blocks in Miami and the work ethic has clearly made an impression.
With Murray set to miss several months as he recovers from hip surgery, Edmund could soon replace the two-time Wimbledon champion as British number one.
Whether Edmund is able to stay ahead of a fully fit and recharged Murray is another question altogether, but he has begun the year looking ready to at least step up a level and join the ranks of seeded players at Slams.
Asked how it feels, in the absence of Murray, to carry British hopes in the men's draw for the first time at a Grand Slam, Edmund replied with a smile: "Maybe I get asked that question one more time.
"My preparation and stuff doesn't change because Andy is here or isn't."