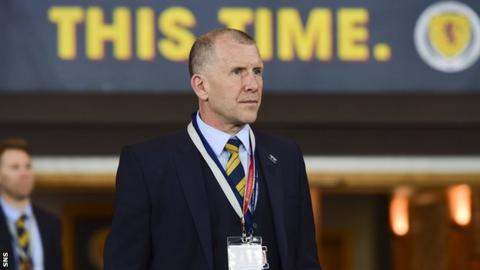 Scottish Football Association chief executive Stewart Regan has stepped down from his position.
Regan, who had been in the post for eight years, says he recognises the "need for change".
He has come in for criticism recently over his handling of a successor to Gordon Strachan as national coach.
The 53-year-old was expected to face tough questioning from SFA board members at a meeting on Thursday over his failure to secure Michael O'Neill.
The Northern Ireland manager turned down the Scotland job after talks with Regan, opting to stay with his native country.
Former SFA chief executive Gordon Smith described the situation as an "embarrassment".
Regan acknowledged he had faced "challenging head winds" during his tenure but is proud of overseeing growth in the game.
He said he had devoted time to "modernising, protecting, developing and promoting" football in Scotland.
Scotland missed out on qualification for the 2018 World Cup and are still searching for a new manager after Strachan's departure in October.
There is also still uncertainty over where Scotland will play international matches in future, with a decision over whether to renew the SFA's lease on Hampden, which expires in 2020, or relocate to Murrayfield, the home of Scottish rugby, delayed until the summer.
The SFA also found itself at odds with leading clubs and players last week over its decision to schedule end-of-season friendlies in Peru and Mexico.
'Love of the game'
Expanding on his decision to step down, Regan said in a statement: "While it has been tough, I am proud to leave having overseen a period of significant change and substantial growth following the McLeish Report in 2010.
"We are now at another staging point and I recognise that it is now time for further change. I have decided to step aside to allow new leadership to take the organisation forward.
"I would like to thank the staff for their energy, hard work and support during my tenure. Their love of the game mirrors Scotland's passion for football and I am proud to have served the association."
Chief operating officer Andrew McKinlay will manage the day-to-day business during the interim period.
SFA president Alan McRae said: "I would like to place on record my thanks and appreciation to Stewart for his commitment to Scottish football.
"He has worked tirelessly and has helped drive through a number of improvements to the governance of the game in the country.
"The search for a new chief executive will begin immediately as we will continue to drive Scottish football forward on and off the pitch."
Scotland have two friendly matches arranged in March, at home to Costa Rica on 23 March and away to Hungary four days later.
More to follow.