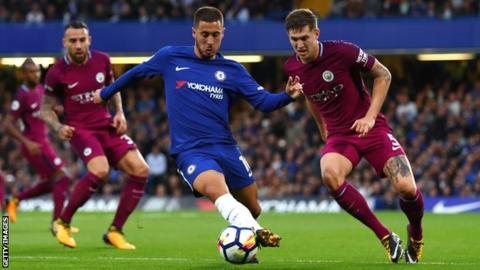 Premier League clubs have rejected an initial proposal to end the equal distribution of overseas TV money.
The six richest clubs – Manchester City, Manchester United, Tottenham, Arsenal, Liverpool and Chelsea – want their appeal reflected in their income.
And a plan – presented by the league's executive chairman Richard Scudamore – suggested 35% of global revenue should be divided based on league position.
But at a meeting on Wednesday, no vote was taken due to a lack of support.
"Clubs agreed to adjourn to allow further discussion," a statement read.
It had become clear during the meeting that the plan was significantly short of gaining the support of the 14 clubs needed for it to be passed.
The issue will be discussed again at the next meeting of club bosses in November.
The £3bn overseas deal for 2016-19 generates £39m annually for each club – and for the previous 25 years there has been an equal sharing of international broadcasting income between the clubs.
But new contracts for international markets such as China and the United States for the next period between 2019 and 2022 have been booming in value, and the big six clubs want a greater share.
Analysis
Today's events means that Scudamore's specific plan to appease the "Big Six" is effectively dead for now. It will not be discussed at the next Premier League monthly meeting in November.
However, the fact that the discussion has been adjourned does suggest that the smaller clubs are open to some form of compromise and may cede some ground. Could that possibly be a smaller proportion than 35%? We'll learn more in the coming weeks.
Growth in the international rights fees