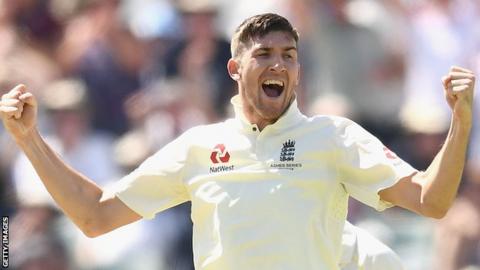 England seamer Craig Overton admits injury could deny him the chance to play in the Boxing Day Ashes Test against Australia at Melbourne.
The 23-year-old Somerset bowler made his Test debut in the second match of the series at Adelaide where he was hit in the ribs by a Pat Cummins bouncer.
He exacerbated the injury in Perth and told BBC Sport: "We're going to assess it over the next couple of days.
"Melbourne might be a push but it's still an option to play at the minute."
England have been comprehensively beaten in the first three matches and there are fears they could suffer a third 5-0 whitewash in the last four Ashes series down under.
"It's looming in the background but we're still pretty confident that we've competed in this series and we're not far off winning games, they've just performed better for longer periods," Overton said.
"We're still fighting to get that result and show everybody what we can do out here.
"It's tough, obviously they're a good side in their home conditions and their bowlers are suited to playing out here with the pace they've got. We need to find a little bit more in our side and score a few more runs and take a few more wickets."
The 6ft 5in bowler made an unbeaten 41 at number nine on his debut and has claimed six wickets in his two matches to date, ousting Australia skipper Steve Smith for his maiden scalp.
"I'm starting to grow into the side and it's disappointing with my rib but I still feel I've got the confidence that I can perform at this level," he said.
"As a kid growing up I always wanted to be a batter that bowls, obviously my bowling is quite a way ahead of my batting at the minute but I'm still doing a lot of work and trying to score those lower-order runs which are crucial.
"I'd like to bat six or seven but at the minute eight or nine is probably my position."
England have struggled to take wickets throughout the series, with James Anderson their only bowler in double figures, while the Australian pace trio of Mitchell Starc, Josh Hazlewood and Pat Cummins – who can all bowl at 90mph – have taken 45 between them.
"Over here you probably need to be a little bit quicker but I still feel like I can bowl quick, there are certain balls in this game where I have got to 140/141kph (87mph) so that's quick enough in these conditions, it's just being able to sustain that and that's the one thing I am trying to work on," Overton added.
"Back home with the long summer you're holding that back a little bit and in key spells you try and go up a bit but here you need to be at that level all the time."
Overton also hoped he could play alongside twin brother Jamie, who is regaining full fitness after back trouble, in the England side.
"That was the dream for us growing up as kids, he's had a few injuries in the last two seasons but is back bowling off a full run-up now so hopefully one day we'll be back playing together," he added.
"He's an out-and-out quick bowler, he's got a bit more pace than me and it's frightening when we face him in the nets because as brothers he normally peppers me a little bit which is probably why I play the short stuff out here OK. Hopefully he'll be in the side sooner rather than later."
Listen to 5 live's Ashes review with Phil Tufnell, Mark Butcher and Marcus North
How is the Ashes affecting your life?
How have you been following the Ashes from afar, and how has it affected your normal sleeping patterns?
Have you been able to stay up all night and follow the action? Or have you been listening to TMS under the duvet? Perhaps you have been waking more than usual to check updates on the BBC Sport app.
Do you go into work bleary-eyed each morning? How do you juggle day-to-day life with the desire to follow cricket in a distant land?
We're keen to hear about your tales of cricket-induced sleep deprivation/batting collapse nightmares. Contact us via this form, and leave your details if you are happy for a journalist from BBC Sport to phone or email you.